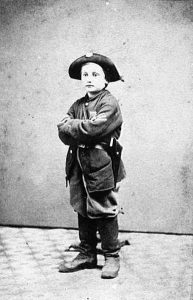 The monsters are slain. The sodas are drunk. The nachos and Sweet Tarts are gone. The PCs divide the treasure while the GM tallies the XP. The fighter looks up her new magic sword, and the druid is already selecting his new powers, certain they will level up tonight.
Suddenly, the cleric blurts out, "Hey, guys? My son watched the Lord of the Rings over the weekend, and now he's asking a lot of questions about D&D. Would it be okay if I brought him to next week's session?"
What do you do? Do you ask how old the cleric's son is? Do you wince and shudder, already planning your excuse for not coming to next week's gaming night?
Or perhaps you're a parent yourself, and your daughter has made a connection between the Harry Potter novels she loves and the fact that you pretend to be a wizard once a week.
"Dungeons & Dragons!" she says, eyes shining brightly. "Can I play?"
D&D with kids—is there a skill challenge for that?
When one of these situations or something similar comes up, we encourage you to embrace the opportunity, whether you are the parent of the would-be gamer or just someone who plays regularly with a parent. D&D can be a great activity for kids; after all, D&D is a highly interactive game that requires creative problem solving, cooperation, and imagination all within the framework of complex rules, and all that's good for kids.
But it's also a lot of fun, and fun is good for kids, too…

Keep It Fun
Here are some guidelines for you to consider to help D&D game sessions with kids run more smoothly.
Character Generation
Creating a character the kid in question wants to play is an essential first step. Your instincts may be to find whatever you think is the simplest class and have the child play that role, but doing so could be counterproductive. Rather than saying something like, "I know you want to play a wizard, but a fighter would be much easier for you," work to come up with a wizard character that the child can handle.
If your kid doesn't know what class he or she wants to play, talk it out. Describe some options. For example, you might contrast the sneaky style of the rogue with the straight-ahead mentality of the fighter and ask which sounds more appealing. You may offer the young player a selection of miniatures or tokens to choose from (most kids love the opportunity to pick miniatures to represent themselves), and then build the character from there.
It's also okay to ask the child to shape a character in terms of pop culture. For example, you might ask which Lord of the Rings character the child would like his or her character to resemble.
The Rules
Try not to get too bogged down with rules. Especially for younger children, anything that gets between them and the game is a problem—a serious, deal-breaking problem.
If you're introducing the game to a young person, use a stripped-down rules system. Start with the essentials and add more rules as you go.
In one game we played with a 9 year old, the character sheets noted only the character's AC, hp, movement, and one or two attacks. The GM handled skill checks, and we didn't worry about the finer points of things like marking or opportunity attacks. The result? It was the fastest-moving game we'd had in ages, and everyone—even the veterans—had a blast.
The Play
Kids often perceive combat as the most exciting part of the game. Therefore, you should have combat encounters early and often.
In the game mentioned above, we asked the 9 year old if there was anything he would have liked to be different about the session he played. He responded, "Yes, after the last room with the dragon, it would have been great if there had been another room with a bigger monster for us to fight."
But the game doesn't have to be all combat by any means. Younger children like options. If they seem stumped by a situation or perceive that combat is their only option in a given encounter, offer them three distinctly different choices—fight, flee, or negotiate, perhaps—and give them the time and space to work through their decisions.
When presented with yet another minion standing between her and rescuing a captured unicorn, a 6 year old surprised everyone at the table by offering gold for the unicorn's freedom, explaining why magical creatures should be allowed to roam free and rolling a natural 20 on a Diplomacy check.
Keep It Lively
The Endgame: What if a younger player's character falls victim to the bad guys? What do you do when that solo brute rolls enough damage to kill?
You might argue that fair is fair, and the kid might as well learn about character death sooner rather than later. This approach is great—if you want to ensure that the player leaves the game and never looks back. Children, especially young children, are likely to be very attached even to characters they just generated an hour ago. If an encounter looks like it's headed toward disaster, give them a chance to fall back, rest, and regroup.
Do whatever you can to keep the characters of young children alive and, for that matter, actively involved in the action. It's hard enough on experienced players when a character has to sit around and do nothing; try not to subject the beginners to the same strife.
If you keep these guidelines in mind, introducing a child to the world of Dungeons & Dragons should be a significantly less daunting challenge. It's also a great way to remember what it was that you liked about the game in the first place—the monsters, the loot, the magic, the wonder, the hours and hours of playing with your friends.
Furthermore, in a very real sense, kids represent the future of tabletop gaming, and we owe it to ourselves and to the hobby to do whatever we can to encourage kids to play Dungeons & Dragons and other roleplaying games. At the ENnie Awards Ceremony at GenCon in 2008, Dungeons & Dragons co-creator Dave Arneson implored us all to go forth and make new gamers.
And so we shall… for it is our duty, our right, and our privilege.
__
Dungeon Dad is Jeremy L. C. Jones, a freelance writer, editor, and teacher. He is the staff interviewer for Clarkesworld Magazine and a frequent contributor to Booklifenow and Kobold Quarterly. He teaches at Wofford College and Montessori Academy in Spartanburg, SC.
Uncle Chris is Christopher L. Dinkins, a freelance writer, part-time professor, and full-time gamer. He and Dungeon Dad teach at Shared Worlds, a creative writing and world-building camp for teenagers that Dungeon Dad and Jeff VanderMeer designed in 2006.