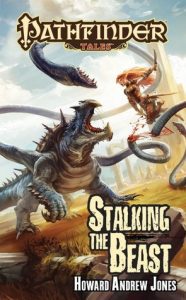 Stalking the Beast: Pathfinder Tales
Howard Andrew Jones
400 pages, Paizo Publishing LLC
Paperback, $8.80
ISBN 978-1601255721
A monster is attacking people across the River Kingdoms, but this isn't just any creature. This monster is soundless, invisible, and deadly. People are getting desperate, and they turn to the elf ranger Elyana and her friend and ally the half-orc Drelm. This is more than just a bug hunt for Drelm; he has settled in as the captain of the guard for a small frontier town. He is betrothed to the mayor's daughter, and the safety of his new life and that of the people of the town depend on stopping this beast. Enter the gunslinger/bounty hunter Lisette, who is in town to join the hunt when she gets caught up in a plot that will bring up a part of her past that is best forgotten. Lisette, Elyana, Drelm, and twelve other powerful folk embark on a hunt that could be the end of them all. Stalking the Beast isn't just a novel about a bug hunt; it is full of love, action, betrayal, and magic most foul, set in the Pathfinder world.
The Pathfinder tales thus far have done an amazing job of capturing the feel of the award-winning tabletop roleplaying game. I was worried that Stalking the Beast would be just another hack-and-slash novel, but Jones turned it into so much more without watering down the action. The beauty of this novel is that Jones didn't waste time trying to put this story in an exact timeline—he just jumped into it feet first, sword unsheathed, and shield readied. This book, like any good Bond movie, started with action. It took a few pages before I totally realized what was going on, but I love a book that starts out with bloodshed and swordplay. As this novel progressed, I started to wonder how Jones was going to keep random encounters with this mysterious creature interesting; as any experienced read of the Pathfinder Tales series would expect, it was no problem. Jones added just enough other stuff to really flesh out this novel. The mystery of the monster, as well as several other shady activities, are revealed through the course of the story, and that really made the difference.
The cast was much larger in this book than some that I have read in the past, and for me a few characters got lost in the mix, but following most of them was not a problem. The combat scenes were really well done and gritty, but I did have a problem with Drelm. I understand that Drelm is a half-orc, but he is portrayed as being very lawful with a very chaotic and predictable fighting style—he charges in head first and ends up almost dying alot. After the third time he got knocked out almost to the point of death, I almost stopped caring about him. I started feeling like if you are going to rush in like that, you deserve the beat-down you get.
Even if you have never read any of the other Pathfinder Tales novels, this book will get you caught up well enough. If you don't know the characters before you start this book, I have a feeling you will want to know them more when it is all said and done. Jones did attempt to shift the story's perspective between the three main characters à la Dave Gross, and while it worked, this aspect of this novel didn't feel near as polished or as integrated as Gross did it. Overall, this was a great, fun, intriguing, and fast-paced book that should appeal to any fan of the fantasy genre.