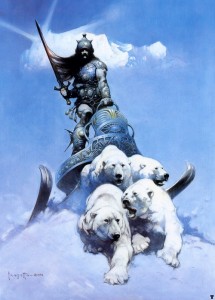 For a long time, I thought the late Frank Frazetta's paintings were the final word when it came to fantasy art. Ok, part of me still does (if you have a better polar warrior than this one, prove me wrong!).
So what I'm saying is that when designer Dan Voyce said it was time to pick up the battle ax and launch the longboats, I was READY. Ready to get on board with a project that will bring the linnorms into play, and ring down the hammer of the gods. Tools for getting that berserker edge into your game.
Frozen Empires: Glories of the North is a sourcebook for every barbarian, druid, ranger, trollslayer, and madman with a little Viking gleam in his eye. It's an exploration of the myths of the northlands, from Trollheim to Thule to the Sleeping Kingdom of Amaroth.
What dead gods lie sleeping beneath the glaciers? What dwarven forges ring with the clash of iron beneath the volcanos, slaves to the giants of Jotunheim?
Frozen Empires is one of two new Pathfinder RPG patron projects launched today, and seeking patrons now.
Come with us and explore all the best elements of Nordic fantasy, as we craft a set of game options, player tools, treasures, grudge magic, and locales for adventure easily portable into any campaign world where blood and snow litter the ground.