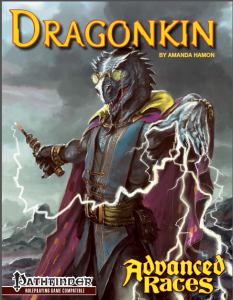 Advanced Races 4: Dragonkin gives you everything you need to play a descendant of the greatest and most terrible monsters in fantasy roleplaying. Use it in the Midgard Campaign Setting or in the setting of your choice.
Compatible with the Pathfinder Roleplaying Game, this 14-page book by designer Amanda Hamon includes:
The dragonkin PC race, and the draconic Mharoti Empire
8 new alternate racial traits, and 7 new dragonkin feats
5 new archetypes including Edjet Warrior, Dragonkin Elementalist and World Serpent's Chosen
New spells and new armor and weapon abilities
Fiery art by Rick Hershey, Guido Kuip and Aaron Riley
And much more!
Advanced Races 4: Dragonkin is available at DriveThruRPG (with Paizo coming soon.) Take up your weapon and show the "hairy ones" what courage really is! Join the ranks of the dragonkin, and remember—one day, the world will be yours!