New Paths Compendium Kickstarter

An updated, reorganized, much expanded, full color, hardcover version of the New Paths Compendium has been a long time coming. Brand new classes, archetypes, feats, and spells. And here's the Kickstarter for it!
It started from humble enough beginnings. Way back in 2009, the spell-less ranger appeared in Kobold Quarterly #11, and to my surprise and delight, the class was well received. This was followed by a other classes of mine appearing in Kobold Quarterly, including the shaman and the white necromancer, as well as a number of other class-oriented articles. Sometime in 2012, Wolfgang asked me to expand the spell-less ranger so he could release it as the first installment in a new stand-alone PDF series. New Paths #1: The Expanded Spell-Less Ranger debuted in April 2012, and was followed by additional New Paths volumes featuring expanded versions of other classes from the pages of Kobold Quarterly, as well as New Paths volumes featuring all-new classes, such as the battle scion.
In 2013, we released the original New Paths Compendium, which collected the New Paths classes into a single print and PDF book. It also featured a brand-new class available only in the new book: the theurge. The New Paths Compendium proved to be very popular and received numerous great reviews, and we were of course justifiably thrilled and proud.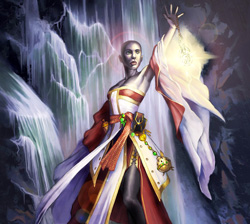 As good as it was, however, in the intervening years I found myself wishing the New Paths Compendium was even better. While the cover sported fantastic art, it was a softcover book, and the dreamer in me wished for a hardcover version. And, while the PDF was color throughout, the interior of the standard print version was black and white. There's absolutely nothing wrong with a black-and-white print book, but the art director and artist part of me longed for a full color, hardcover version of the New Paths Compendium, featuring loads of brand-new, amazing art. What's more, since the original book's release, I'd written new classes, including the priest and trickster, in the New Paths line, as well as even newer classes like the mystic archer, tinkerer, and warlock, which had yet seen the light of day; I also had new archetypes, new feats, and new spells.
So, Wolfgang and I began discussing the possibility of doing a brand-new edition of the New Paths Compendium. We dreamed big— such a new edition should be a hardcover book, it should be full color throughout and feature plenty of great new art by top artists, it should feature the current classes plus a ton of new material, including my new classes. It should also be better organized and get an all new, updated layout. And, since we were dreaming big, why not get an absolute RPG legend to edit the new book. Enter Kim Mohan!
The Kickstarter that launches today is for this very book! I can't begin to tell you all how excited and proud I am of this awesome new version, and I hope you help us make it a reality!
Please back the New Paths Compendium Kickstarter today!!
Illustrations for some of the new classes: