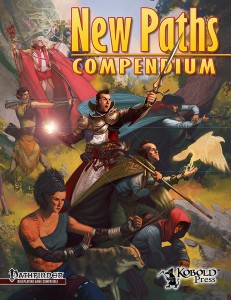 We are extremely excited to announce that Hero Lab will soon provide you with New Paths options. Thanks to them, you can soon choose from seven new and expanded classes from Level 1 to 20, plus the following:
28 new archetypes for monks, ninjas, gunslingers, barbarians, fighters, clerics, and all seven New Paths Compendium classes
20 new spells for druids, rangers, shamans, and other classes
Almost 100 new feats for new and existing classes
And more!
As of this writing, just over half of the content from New Paths Compendium is available early in September, and you should see the rest as a part of the late September Hero Labs Pathfinder update. If you purchase New Paths Compendium upon release, the new content will be available as a free update once added.
So, pick up New Paths Compendium for Hero Lab for only $14.99 next week (on Monday or Tuesday)! And be sure to check out our New Paths Compendium at the Kobold Press store.
[Edited to update date estimates.]