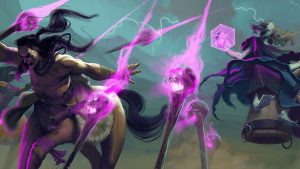 August's RPG Blog Carnival was all about Magic.
What's awesome about magic? Why do we love it so? How do we bring more of the impossible to our table? Magic!
Many a spell slinger brought an assortment of magics to chat about:
We at the Kobold Blog throw a series of thematic 5E magic items your way with Shades of Magic.
Alan Kellogg (of Mythusmage Today) gives insights on magic and how to present it in your game: Part I and Part II.
Anthony Wright (of The Temple of Ravens) contemplates his favorite magic system.
Davide Quatrini digs into literature once again and creates a new 5E magic item, just for you.
Furt (of The Furtive Goblin's Burrow) discovers another paper of Roberick Bertrum Litte's on magic.
Vance (of Leicester's Ramble) ties magic to a recent topic of great interest, the solar eclipse.
Timothy Brannan (of The Other Side) presents a wonderfully detailed study on spell research.
Phil Nicholls (of Tales of a GM) dives headfirst into folk magic, adding magic bundles to Gloranthan common magic.
Thanks to all the RPG bloggers who joined the carnival! The new carnival theme for September is Short Dungeons & Adventures: https://roleplayingtips.com/rpg-blog-carnival/rpg-blog-carnival-short-dungeons-adventures/