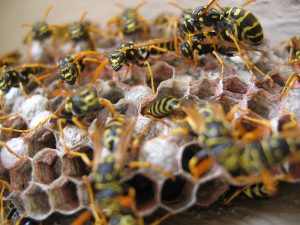 Welcome to the King of the Monsters Contest finals: the hive ghoul is finalist 5 of 10. These submissions are left almost entirely as they were received with the exception that all submissions have had minor alterations for proper spelling (not grammar), formatting, and the addition of an image. Let the fight commence!
______
One bard laughed at the other.
"Your face—if we can still call it that—speaks of a most unpopular performance."
"Aye."
"Indeed, indeed, I should have warned you—you have barely enough talent for a duke, much less a queen!"
"Aye."
"If you had half a wit about you, you'd have run from the sting of her displeasure." …

"I ran all right, but it followed me."
"You mean they—her royal guard, clad in tabards black and yellow."
"I mean it."
"I know something of insects, my friend, and no single bee—"
"—It wasn't the bees. It was the thing that carried them."
Hive Ghoul (Level 6 Elite Controller)
Medium natural humanoid XP 500
Initiative +4; Senses Perception +4; darkvision
Stinging Cloud aura 2; the aura grants concealment; any living creature that starts its turn within the aura is subject to an attack: +10  vs. Fortitude, 5 poison damage and the creature is dazed until the start of its next turn; see also Stirring the Hive
HP 148; Bloodied 74
AC 20, Fortitude 19, Reflex 17, Will 21
Immune disease, poison; Resist 10 necrotic; Vulnerable 5 radiant
Saving Throws +2
Speed 6
Action Points 1
[M] Claw (at-will; standard)
+11 vs. AC; 1d6 + 4 damage, and the target takes ongoing 5 poison and necrotic damage (save ends)
[m] Breath of Hornets (recharge 5 6; standard)
Close blast 3; +10 vs. Fortitude; 1d6 + 4 poison damage, and the target is dazed (save ends)
[c] Direct the Cloud (at-will; minor)
Close burst 5; +10 vs. Fortitude; targets any square within range; this square is considered part of the Hive Ghoul's Stinging Cloud until the end of the Hive Ghoul's next turn.
Stirring the Hive (encounter; immediate reaction)
Usable when first bloodied; the range of the Hive Ghoul's Stinging Cloud aura increases to 3.
Alignment Chaotic Evil   Languages Common
Skills Nature +9
Str 14 (+5)           Dex 13 (+4)         Wis 12 (+4)
Con 18 (+7)         Int 14 (+5)           Cha 15 (+5)
Appearance
Hundreds of large, black and yellow hornets crawl in and out of this warped creature. While some seem content in exploring the gaps and holes of its decaying flesh, most congregate in the large hive they have tunneled into its face, neck, and torso. From the rest of this creature hangs a tough, leathery skin, blotched red with the ignored infection of myriad stings.
When their host is engaged in combat, the hornets go berserk, emerging to protect their hive in a wide cloud that the creature directs with waves of its claws.
Tactics
A Hive Ghoul begins combat by moving up to a large group of people which it attempts to daze with its Breath of Hornets power. Unless stopped by a skilled defender, it will provoke opportunity attacks as necessary to maximize the effects of its Stinging Cloud aura. If happy with its location or forced to hold still, it trades its move action for a minor action to use its Direct the Cloud power twice.
Ecology
A Hive Ghoul forms a symbiotic relationship with a large hive of hornets. These hornets form a hive inside its torso, drawing trace amounts of necrotic energy which the Hive Ghoul then uses to control their actions. While at rest, the hornets brew a sickly honey within the creature's innards, imbuing it with poisonous claws that can be milked several times a day for their venom.
Though the hornets are useful as weapons, they are still herbivores who feed on flower nectar. Over time, they infect their food sources with the same necrotic taint that binds them to the ghoul, blighting the land with sickly and dangerous floral mutations. On occasion, such creatures will also fall under the Hive Ghoul's control, granting it flesh-eating plant monsters to supplement its already considerable defenses.
Hive Ghouls are favored servants of hags who enjoy blending black magic with the power of the natural world, but they can be found in the hands of any group that would desire a renewable source of venom, from trapsmiths to assassins.