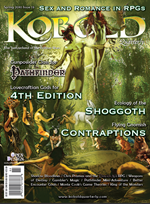 Kobold Quarterly #13 has been out for over a month and there are still reviews steadily pouring in. Find out what the buzz is about.
I love Kobold Quarterly. It's true. I gush with abundant gamer love for this magazine, more so every issue. Yet, as a reviewer I'm always looking for something critical to say, something to help my readers decide whether they want to buy this issue or not. Never works. It's all just varying degrees crunchy-fluffy goodness. Even the edition split fails as a sorting criteria. KQ's articles are carefully crafted for use across editions, even when they are written for one. On top of that, for each edition there's always at least one article for which it's worth buying the whole magazine, while many articles work for all editions. Wolfgang and the KQ crew really hamper the critic, let me tell you.

In response, I've decided to take this approach: if you're a gamer, get yourself a subscription to KQ. Period. You won't regret it. And they don't pay me to say that; I just think it's true…
Read the full review Lou Agresta's RPGAggression.
We've got a little something for everybody. Pick up your own copy of Kobold Quarterly #13 (print/PDF).