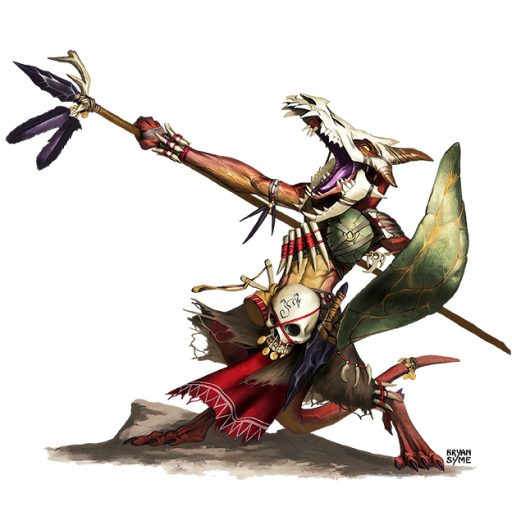 What started out as a fan asking in a tweet when Kobold Press was going to bring products to Foundry Virtual Tabletop ended up with an email exchange between the companies. A new platform can be risky for a company as small as Kobold Press, but every adventurer knows that big risks offer the best rewards, and great partnerships are always worth the work. Besides, Kobold Press is a company made to deliver small but fierce experiences to the tabletop world!
We know our customers have different preferences when it comes to running virtual games. With that consideration in mind, Kobold Press is excited to announce two inaugural products for the Foundry VTT platform.
Starting today, you can visit the Kobold Press store and pick up Foundry content keys for the Tome of Beasts and the Book of Lairs. These two products are the strongest test case we could make for this platform—one of our incredible creature books and a tome of one-shot adventures with gorgeous custom maps that highlight those creatures. With these beautiful conversions, you get the best of Foundry VTT features and two of our flagship products in full digital glory.  
Working with Andrew and his team has been a pleasure. What they've got planned for Foundry is amazing, and the platform is simply gorgeous. We could not be more proud to launch these new products, and we hope those of you who prefer Foundry as your VTT will enjoy them for years to come. Huzzah!
Stay safe, happy gaming, and enjoy.
ABOUT FOUNDRY VIRTUAL TABLETOP
Foundry Virtual Tabletop is a modern and self-hosted software for enjoying tabletop roleplaying games online. Our software is available as a one-time purchase for $50, allowing you to host your own VTT server that your friends can easily connect to using a web browser. Foundry VTT is system agnostic with support for over 150 different game systems. The software is highly configurable and moddable using our robust and powerful API that has empowered our awesome community of developers to create over 1,000 add-on modules to enhance the behavior of the software. While it's easy to self-host on your own computer, Foundry VTT can also be easily deployed to the cloud, allowing you to run your own dedicated server, or you can sign up with one of our awesome hosting partners for dedicated hosting services. We are partnered with some of the best publishers in the business, like Kobold Press and Paizo, as well as hundreds of independent creators like Czepeku and Griffon's Saddlebag, who all create amazing content that you can install and import directly into your games. Check out Foundry Virtual Tabletop (https://foundryvtt.com) today to learn more or try our demo!