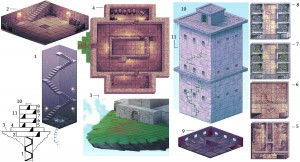 We recently posted a cartography contest that started off with a vote to determine what type of map budding cartographers should craft for us. The voting public decided that they wanted to see flying towers. Because we had a lower number of submissions than we'd hoped to receive, our panel of judges took a look at those who shared their craft with us and determined a winner from among the participants. It's time to reveal that winner right here and right now!
Sean McNally provided us with the map called The Broken Hilt, and we present it here to you so that you may enjoy using it in your game!
Congratulations, Sean, and thank you for submitting such a fun and useful map.
We also thank our esteemed panel of judges: Wolfgang Baur, Alyssa Faden, and Jon Roberts. Additionally, many thanks go to all those who submitted their maps and sharing the fruits of their artistic labors with us. The judges all enjoyed this contest!