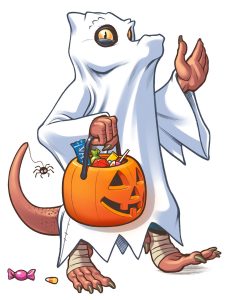 We kicked into September with a new Kickstarter, Campaign Builder: Castles & Crowns. Thanks to the 3,743 backers that pledged $259,016 to help bring this project to life! Soon you'll be able to preorder on Backer Kit, so keep watching this space!
DragonCon
The Kobolds took a trip south to Atlanta, GA for DragonCon 2023! They had an amazing time on various panels in the Table Top Track. Dot ran a Tales of the Valiant RPG one shot for some incredible guests including Logan Jenkins, Omega Jones, Mark Meer, Ming Chen, Ian Alexander, and Cooper Andrews.
Deep Magic 2 has arrived!
The highly anticipated Deep Magic 2 is here alongside a new and improved Deep Magic 1! Bust out the all-new witch and theurge base classes, or take on one of the 20+ subclasses for all new magical fantasy in your games. If you backed the Kickstarter, make sure to check your inbox and mailbox, or you can grab them in our store now!
Next Up For Kobold Press
It's that time of year when leaves are falling, pumpkins find their smiles, and we finally get to use the word "spoopy." October is here! The Kobolds are welcoming it with open arms, and we have a lot to look forward to this month.
Halloween Sale!
Each week in October, Kobold Press will feature a different selection of our spookiest PDFs and books on sale! Check back each Monday to see what new terrifying delights we have on offer. For the first week you can get Rise of the Mimic Moon and other select PDF titles at 25% off!
On the Shoulders of Giants PDF Release
Need some big energy for your table? With our new PDF, On The Shoulders of Giants, you'll have everything you need. In this 13-page title you'll find tips for GMs to incorporate titanic enemies and colossal allies in their campaigns, and players will find new options for building characters including a new lineage, Cyclops-kin!
Black Flag Roleplaying Reference Document
It's been a while since we had an update on the Black Flag Roleplaying system. That drought ends! In October we're bringing you the first public Black Flag Roleplaying Reference Document. This document is built off the current Alpha Release and falls under the ORC license. Now, everyone can freely create for our open rules system!
As we complete more of the final rules, the Black Flag Reference Document will be updated and re-released to stay current. Make sure to follow us on social media, in our Discord, or on our Courier newsletter so you don't miss when the Black Flag Reference Document goes live.