The Kobold Press twin spell extravaganzas, Deep Magic 1 and the new Deep Magic 2, are now in the wild. Maybe you have your copy already! If not, you can get it here.
Kobold Press is grateful to the hundreds playtesters who contributed their insights and reports to making these books stronger and more fun to play! Their names and gaming groups are listed below.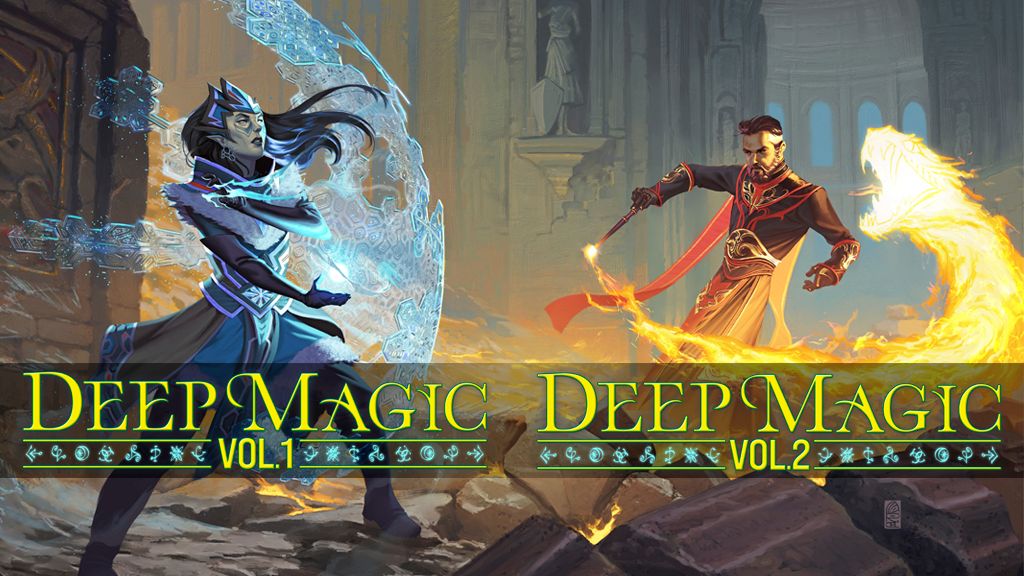 Playtesters by Group
Adventure Bros Andrew, GM; DC, French, Dave, Dom, Chris, and Jeff
Andy's Merry Band of Misfits Andy Teague, GM; Cory Swope, Clay Kennerk, Clark Collins, Subrina Teague, Jake Smarker, Bethany Smarker, Dan Gardner, Rebecca
Ayres/Watson game Dorien, GM; Erik, Ashley, Pat, Jesse
Black Cats Ken, GM; Ian, Jason, Josh, Richard
Breakfast Club Brett Fisk, GM; Captain Josh
BulletMutt
Burks Boys Hunter Burks, Levi Burks, Courage Burks, Hudson Burks
Caveat Emptor Malcolm Hazel, GM; Elizabeth Hazel, Angie Wellington, Jeff Hazel, Scott Stevens, Ellen Paige
Collegium Apprentices Tim Baker, GM; Robert Baker, Chris Fransioli, Ashten Fransioli, Rhiannon Pullin, Tristan C.
Cryptid Club Samuel Birkner, Chris Szponar, King Greyson, E Coughlin
Dice&Cider MikeOrrhizal, Amy Ogden
DiceMonkey Gaming Group
Donuts jheiner, Banana Man, claypigeons, CivilizedStorm
Dungeon Delvers, Inc Bret Jordan, GM; Troy Gallier, Michael Hicks, Brandi HIcks, Willie Lee, Heath Tietjens
Dungeons & Dummies
Dungeons and Donuts jheiner, Banana Man, claypigeons, CivilizedStorm, Holy Warrior, Soulquest, Murabi
Dunkle Schwärze Michaela, GM; Taranis, Anakis, Flinch, Drokar
Fate Academia Nick Parker, Jake Hatcher
Free range pumpkins Zak, GM; Ethan, Tralyn, Ash, Oliver, Lakin, and Chris
Ghost00
Grace, the cheerleader bard
Guilded Boys Elliot Davis, Keith Clarke, Josh Dib, Collin McClutchy, Bobby Sciacca
Heroes of Phanadlin Geordie, BJ, Stacey, Jim, James, Erin Xach
House Dar Kholte Victor "Jako Dar" Morris, GM; Brian Klueppel, Charles Sullivan, Chris Stowe, Christy Morris, Darrell Parnass, Naomi Peden
Keith Marshall
Kringle's Helpers Tim Baker, Chris Fransioli, Ashten Fransioli, Rhiannon Pullin
Laucien
LCMGP Rev. Brian O. Bennett, Sarah Maenner, Elise Hoffman
Michael Berube and Michael Walters
Monday Night Mayhem EJ Boston, Maxwell Christy, Justin Erwine, Matt, James, Michelle
Moonlight Marauders Andrew McDaniel, GM; Jim G.,Thad O., Charles S., Jim W.
Musgraves Manor Zman, DM-Z; PurpleFlyy (Mrs-Z), Alt-F4 (Kid-Z), Elizabeth (BiZ)
N/A Robbie Ann Cunningham, GM; Eddy Doering, Bob Fields, Ian Wize, Richard M. Kates, Unnamed Member
Nate Laleman
Negromaestro Games Remi Fayomi, Pete, Rachael, Simon, Tim
Neverwinter Knights "DM Dane," GM; Anonymous
Nexus-7 Mateo, GM; Sky, Mike, and Ed
No Group name Deena Jamison, GM; Josh, Ben, Rae, Pippa
Noff's Nuts Patrick Seymour, Karen Savage-Seymour, Suzanne Landin, Brody Landin
Outsiders Against Orcus Christopher Sabol, GM; Rachel Sabol, Megan Hicks, Erick Chacon, Evan Natale, Zach Lane, CJ Franklin, Jake Salter, Emily Salter, Sarah Lovelady, Caya Collins
Parking Lot Club Alex Zerbinos, Deidre, Jamie, Dianna, Robert
Pie or Die Rosie, Alex, Kookie, Rhona, Will
RG's Imaginary Friends Robert Glover, BonfireCurry, TheFolk, drolom
Ric's Games Ghost00, GM; FireFly, Beau, Phattonie, Lorreke, Spiritus Lupus
Roll With Adventure DM Cas, GM; Alli, Corey, Emmy, Dev, Daniel
Silver Talons Morgan, GM; Ken, Ryan, Mark
Tabula Rasa Good King Enialb, GM; Leshka, Fallen
Tavern Tusslers Austin, Thad, Daegon, Phil, Aine
The Battle Dudes Richard A. Johnson, GM; Scott, Erika, Nora
The Black Gate John Colgan, GM; Brian O'Farrell, John Kealy & David O'Conner
The Darkchydes Rob, GM; Rich, Ali, Lily, Sam
The Fellowship Connor Macennis, GM; Randy Plungis, Myq LaSala, and Tina LaSala
The Game Chamber Emmanuel Guerrero, Claude Guillemette, Jake Detzler, John Venezia, Nathan Russell
The Good Old Days Old Grave, GM; Alibaba, Zoran, Chetaala, Ikari-Sen, Sloan, Fallyse, Firelight Mystic, Maester Messy
The Gregsman Devin Brugger, GM; Christina Brugger, Rachel Brugger, Andrew Cook, Phil Bloeman, Chaise Sheldon, Ryan Barker, William Floyd
The Old Gods
The Strangers Jenn, Andrea and Kathee
The Symes Party Sam, Jessica, Katie, Hannah, Alex
The Walsh/Koran Family Mike, GM; Ethan, Kieran, Caecilia, Karel, and Dave
The Wanderers Zarono, GM; Hummie, Kitsune, Aron
The Willy-Nilly's Ian, Jim, James, Erin Xach, Stacey, BJ
The Word Jacob de Niese, GM; Ben W, Jim C, Jack I, Mitch L
Tomb Raiders Malcolm Hazel, GM; Elizabeth Hazel, Jeff Hazel, Angie Wellington, Grant Beattie
Unnamed Group Chris Matthews, DM; Amy Matosky and Rowan Matosky
Unnamed Group Christopher Sabol, GM; Rachel Sabol, Zach Lane, CJ Franklin, Blake Batchelor, Megan Hicks, Evan Natale, Jake Salter, Emily Salter, Sarah Lovelady, Erick Chacon, Caya Collins
Unnamed Group Eric Roth, Ben Snyder, Mike Gift, Joe Rhyder
Unnamed Group Alex Zerbinos, Dan, Diedre, Chris, Eli, Ruben
Unnamed Group Chris Matosky, GM; Amy Matosky, Rowan Matosky, and Aspen Matosky
Unnamed Group Deena Jamison, GM; Josh, Ben, Rae, Pippa
Unnamed Group DM-Z, Purple Flyy, Alt-F4, Biz
Unnamed Group Dragon of Peaking, Jenstream, Tofurkie, Mercuryrain, Axmew, Reven
Unnamed Group Ghost00 and HandsomeDick
Unnamed Group Joseph McWhorter, GM; David Brown
Unnamed Group Michael Chadd, GM; Tonia Ross, Joe Ross-Richard, Nirinjan Khalsa, Nick Dowdle, Sven Suba, Lakhmi Chand Khalsa, Abinashi Khalsa
Unnamed Group Michaela Erhart, GM; Taranis, Huffschnuff, Anakis, Drokar, Nirgendwo
Uprising DND Harry Tapp, GM; Carly Tapp, Justin Stanley, Amanda Mercer, Thomas Commerford, Lexy Stanley, Astrid Portner
WALDORFWINGBLADES Eric Benson, GM; Asa Benson, Emily Benson, Rex Lane, Finley Rhodes
Wednesday Night Gamers Bryan Lademann, GM, Rob Blodgett, Kevin Lademann, Lon Lademann, Candice Rakow and Jeff Rakow.
Weirdness and Wun-Shot CJ Casey, GM; Theurges: Cameron, Jason. Witch: Lisa. Rogue/ Warlock: Brian. Barbarian: Meggin
Wendel
Weresharks Inc. Robert Glover, Dwel, Roon
Zanzarah Adventuring Group Ken Sexe, GM; Baylee, Adam, Aideen, and "Terran Jack"