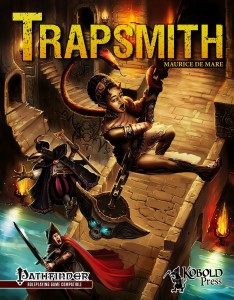 After many years of research, the kobolds are ready to share some of their most treasured secrets: their traps and a set of trapsmithing rules, as discovered by expert trapsmith Maurice de Mare!
Traps make your game better and add a sting of surprise to any encounter. The Trapsmith sourcebook provides you with more than 100 original, easy-to-run traps for almost every Challenge Ratings, and each trap has been maximized for in-game flavor and mechanics by master trap designer Maurice de Mare.
All Trapsmith designs come complete with statistics for the Pathfinder Roleplaying Game. The book includes:
• 120 traps spanning a wide range of Challenge Ratings
• Inventive locks and many useful rogue items
• Guidance for creating fun, appropriate traps for your own adventures
• A complete trap-heavy adventure called Whispers of Wyrmhood
Put a little fear into your next dungeon crawl with this collection of trigger-ready traps, and revel in the deathtraps of the old-school dungeon! Pick up Trapsmith today at Paizo, DriveThruRPG, or RPGNow, and unleash a couple surprises in your next game!