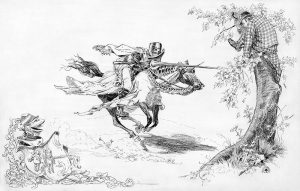 In physics, an interesting way to work out a problem is something called a thought experiment. This allows physicists to build what is essentially an imaginary environment and create conditions that would be very difficult to create in the real world. What I am proposing to you here is that we craft a thought experiment to make us exercise our minds in a way that perhaps we haven't tried before. I believe this will be useful in generating more interesting game environments.
Get It Together, Softy
In 24 hours, you will be transported to another world. Whether it's Earth in the dark ages, Middle Earth, Krynn, or the Forgotten Realms doesn't matter. You'll randomly be "dropped" in a village, a dungeon or cave, or a wilderness area. You'll be provided with a pack containing several days' worth of food and basic survival tools, including fire-starting supplies, a good map, a big sturdy camp knife, and the appropriate clothing. All you need to select is weapons and armor.
The only information you have to help make your selection is that you will be facing humanoids and possibly whatever the indigenous wild animals are—nothing worse than bears and mountain lions. If you face magic, you're toast, and there's nothing you can do to prepare for it anyway. You can only pick weapons that are within the technological limits of the destination…
Weapon Technology
Our limitations for this drop are as follows: you can choose weapons and armor that are made from any wood, leather, plant fiber, non-ferrous metal, iron, or hardened steel. For missile weapons, you may select from any style of sling that does not incorporate elastic, any bow or crossbow that doesn't have a mechanical force multiplier (that is, compound bows), any javelin or spear, any atlatl, and darts. Obviously, you may not bring any "modern" weapons (such as grenades, firearms, death rays, and such).
What to Wear
Let's start with our armor selection. There might be a temptation to simply go with full plate, but there are some reasons why I won't do that. First, the knights who wore full plate trained in it most of their lives and could move well in their custom-made armor. I know I would be encumbered by it. Also, full plate went along with a good destrier, courser, or even a rouncy, and I didn't put a horse on the equipment list; maybe next time. Walking long distances in full plate just isn't going to work.
On the other end of the spectrum, I could go with no armor, but for me, it's a bad idea for a couple of reasons. I'm going to get hit, probably a lot. Hardened leather isn't going to work for me either, it just won't hold up. I'm thinking steel breast and back plates, not a cuirass, but two separate pieces, will work well. And a short riveted mail shirt with medium length sleeves will fill some of the gaps. On the right arm, I'm going with a light steel plate bracer. For the bottom half, I'm going with a lamellar kilt: steel splints over leather. Some light plate greaves and steel-toed leather boots round out the package. I can move in it and take some hits, and I have the knees for a kilt, so why not?
Next up is a helmet. A brain bucket. I'm going with a simple leather lined steel half helmet with a nasal, short cheek pieces, and a light-segmented steel lobster tail. It'll need some extra steel across the brow for head butting when things get tight. It's strong without hindering peripheral vision.
The Spartan's Best Friend
I'm giving the shield its own section because it's not just armor; it's also a weapon if it's built right. A good argument can be made to skip the shield in favor of dual wielding, but the argument falls apart when you're fighting alone and facing missile weapons. I'd feel pretty foolish with each hand full of steel while some undernourished villager whom I could whoop is launching bodkin tipped death at me from 100 ft. away, and I have no cover and no shield. Very embarrassing.
My arrow stopper is medium sized, say 26 in., leather and fur-backed, round laminated hardwood with a thin hardened steel skin. It will have a short, pointed central boss and two dull 4-in.-long hardened steel rods projecting out from the edge in front of the handhold, like an extension of the fist.
It's big enough to get most of myself behind, tough enough to take arrows or javelins, and outfitted to smash armor.
Bringing the Pain
Weapons are a tough choice if you don't train with them. Despite my years of training, I've done precious little with primitive weapons. I know just enough to understand my limitations. As a general rule, the longer a weapon is, the harder it is to control, and the more training it takes to use effectively. Large swords are out because they are a specialized skill and take a long time to learn. Most polearms (some spears are an exception) are out because they cannot be paired with a shield, are so big they limit the ability to carry other weapons, or are intended to be used en masse. Flexible weapons like a flail or meteor hammer are as dangerous to the wielder as to the enemy without extensive training and heavy plate armor.
I'm going with a leaf-bladed heavy short sword as my primary brawling weapon. It matches up well with my shield, is a good hacker, a great thruster, and the leaf blade makes it a decent slasher. To defeat heavier armor, my backup brawler is a standard war hammer with a pronged head and spike. Not having a distance weapon is a mistake; I choose two light spears that can be used to brawl or be thrown. My first choice for a fighting spear would be a Zulu assegai, but they're heavy enough that carrying one with a javelin would be cumbersome, and my first choice for a javelin would be a pilum, also a big heavy weapon, so I have to go with a dual-purpose spear that does both jobs pretty well.
Let's go!
That's what I would do. You are welcome to critique my choices, but you don't know me, and you never fought me, so how can you know what will work for me? What I really want is to hear what you would do.
So, cupcake, what are you bringing to the party?