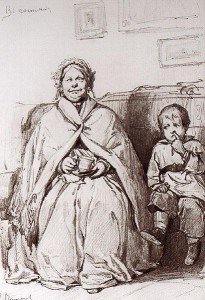 Several weeks ago, Ryan Costello made us laugh with his Friday Funny: Charisma Penalties and Dirty Looks. Well, a fan loved the random list so much, he created a randomized Excel spreadsheet for it:
Charisma Penalties & Dirty Looks spreadsheet (and an xls version)
If you hit F9 when the file's open, it'll "re-roll."
From it's creator, Johnny Wilson:
I really enjoyed the d100 list in your comedy column. It's the kind of thing I do in my campaigns when someone takes a low charisma stat. So, I immediately adapted a quick and dirty spreadsheet version (the xlsx). It should look reasonably nice to you if you have Algerian true-type font on your machine.

When testing it, I hit F9 about 200-300 times before I got the anomaly I thought was possible. The way I currently have it set up, the sheet does default rolling in case you end up with a roll of 100 on your second and third rolls. Unfortunately, you occasionally get the crazy result of three problems as in the screenshot pictured here (the jpg). I could probably solve that, but I wanted to send you the spreadsheet right away. I think it's kind of fun and you might want to make it a downloadable on your site.