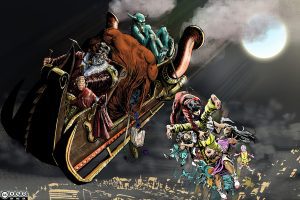 The dark cohort of old St. Nick, the Krampus is the sinister creature tasked with punishing the little boys and girls who fail to listen to their parents throughout the year. Presented here for your holiday entertainment is a collection of Krampuses—a bundle of badness who are intent on leaving behind lumps of coal and teaching a few fear-inspired lessons for a trio of game systems! So, tell your players to be good, lest the Krampus come into play while on their watch!
The third Krampus in our collection has found a dark, dark place within the AGE system. OH NOES!
* * * * *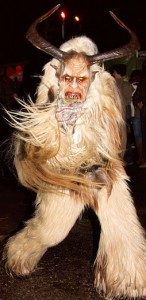 "A subtle, nasty take on the Krampus."
—Daniel Perez
Krampus
2 Communication
4 Constitution (Stamina)
2 Cunning
5 Dexterity (Whip)
1 Magic
5 Perception (Empathy, Searching, Tracking)
3 Strength (Intimidation)
3 Willpower (Courage, Morale)
8 Speed
70 Health
15 Defense
3 Armor Rating
Weapon / Attack Roll / Damage
Chain whip / +7 / 1d6+3
Powers
Favored Stunts: Entangle, Lightning Attack, Skirmish
3: As a free action, Krampus can make a Perception (Empathy) test to know if a target is harboring any guilt. If the target is harboring any kind of guilt, Krampus gains a +1 to all tests against that target for the duration of the encounter.
Entangle: Krampus can perform a special entangle stunt for 2 SP after a successful attack with its chain whip. The target must make a successful TN 14 Dexterity (Acrobatics) test or become immobilized. Krampus can drag immobilized characters, dealing 1d6 extra damage per round. The target or an ally can free the victim by taking a major action and making a successful TN 15 Strength (Might) test. This is the only action an immobilized character can take until freed.
Tough Hide: Krampus's tough hide grants it an AR of 3.
Equipment: Chain whip, sack.
Take a look back at part 1 and part 2  from our Krampus Christmas Carnival this week! And for more entries from a slew of other folk participating in the carnival, please visit the Nevermet Press site. Information about the Krampus Carnival: The "Steampunk Santa with Krampus" artwork by Steven Austin and Nevermet Press is licensed under Creative Commons.