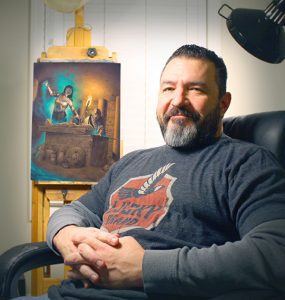 Southlands is an exciting new campaign sourcebook for the Pathfinder Roleplaying Game, featuring stunning art, maps, and adventure hooks. We asked Southlands artist Fred Fields to walk us through the creation of the title page art…
You created a beautiful new piece for the Southlands book. Can you talk a little about your working process in general and how you approached this piece specifically? Also, I have it on good authority that a self-portrait might be lurking in the piece?
Well it all starts with the art suggestion. This one was pretty straightforward. A robber inside a tomb opens a sarcophagus and in the process has brought to life a statue of Bastet along with her wrath. I spend an hour or two doing image searches for all the elements: a tomb, Bastet, torches, weapons and so on. I do a lot of doodles/thumbnail sketches. In the case of this illustration, it was mostly to come up with the general composition and placement of all the elements.
Since the lighting from the torch was the only light source, I wanted to see what it would look like. I built a small, three-walled diorama out of Styrofoam, wooden dowels, foam board, and Super Sculpey. On the lid of the sarcophagus, I sculpted a lion-headed human. I knew it wouldn't be seen directly but I knew it would add to the illustration. I took reference shots of the tomb diorama and then I took reference shots of my wife as Bastet (which she has requested never to be shown) and shots of me as the tomb robber. I tried shooting photos of my cat for Bastet's head. She is a comfortable cat so I wasn't getting the look I wanted. I found several aggressive cat faces online and combined them to come up with Bastet's crazy face. For the tomb robber, I used one of the dowel rods previously used in the tomb and clamped a light bulb onto the tomb — and I had an instant torch.
I sketched up the tomb, Bastet, and the tomb robber separately. I scanned each and combined them in Photoshop. I like doing it that way so that I can move the elements around until I like the placement. Once I get the drawing the way I like it, I enlarge it and have it printed out to the size I will paint it. I attach it directly to illustration board and start painting.
Some of the film soundtracks I listened to while working on the Southlands project were Stargate – David Arnold, Passion – Peter Gabriel, Blackhawk Down – Hans Zimmer.
You've had a long and illustrious career. What were your first professional jobs as an artist? How did you get into doing fantasy and RPG art?
I did a couple of illustration jobs while I was in art school, but my first job was with Leo Burnett Advertising in Chicago. I did marker comps for print ads and TV commercial storyboards. At night I was painting fantasy-themed paintings. I wasn't even sure why. I just wanted to. At some point I began sending out art samples and eventually picked up a couple of magazine assignments. I think that's where the fork in the road was.
You worked as a staff artist at TSR, and your art has appeared in products like Dragon magazine, the Forgotten Realms, Ravenloft, Magic: The Gathering, and, of course, Al-Qadim. What was it like working at TSR in general and on the Al-Qadim line in particular?
I look back on my time at TSR fondly. The work was good, the friends were good, and I learned a lot. Al Qadim was fun. I'd been working on Forgotten Realms for such a long time, it was nice to have a new genre to work in.
Can you talk a bit about your recent work?
I worked in video games for about 5 1/2 – 6 years. I was doing all digital concept work. I still painted in the evenings. I've never stopped painting (ever). I've just, within the last year or so, gotten back into gaming art illustration. It's like finding your favorite jacket in the back of the closet and realizing how comfortable it still is.
Check out the gallery below!
Anything else you'd like to share with folks?
You can see more of my work at http://fredfieldsart.com/ and you can like me on Facebook at Fred Fields Art.
Thanks, Fred!!!!
Thanks, Kobold guys!
As art director for Kobold Press, Marc Radle is delighted to work with both new talent and established veterans on the Southlands Campaign Setting book, which raises the bar for art, layout and design in Pathfinder Roleplaying Game supplements.