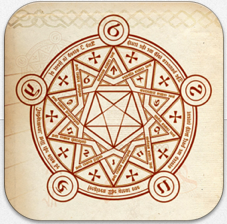 Have you ever been caught spell-less by a gang of hungry gnolls? Do your hirelings groan under the weight of carrying your magical library through the wilderness?
Now you can carry a massive tome of spells in your pocket! The Deep Magic Spell Reference for iPad and iPhone (with an Android version coming this summer) includes hundreds of Pathfinder Roleplaying Game compatible spells from Deep Magic, the mammoth collection out now from Kobold Press.
With the Deep Magic Spell Reference you will astonish the mundane folk and confound your enemies, with fast, easy lookup during play:
Search for the spell you need by level, school, or class
Sort your spellbook by name, level, range or casting time
Filter by class, level, school, range or saving throw
Download this great RPG resource today for a mere $2.99—this introductory price is for this weekn only!