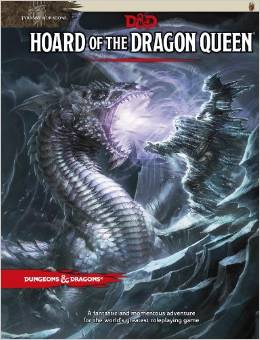 If you've paid attention to the Dungeons & Dragons news over the past couple of weeks, you know that Kobold Press designed two adventures to support the upcoming Tyranny of Dragons storyline—Hoard of the Dragon Queen (out in August) and The Rise of Tiamat (October). These adventures are the first to work with the new D&D rules set.
Now we're happy to announce a special exclusive: You can pre-order Hoard of the Dragon Queen Autographed Edition right here at the Kobold Store! This signed edition comes with a special commemorative patch and is available only via pre-order until August 10. After that, any remaining copies go on sale at the Kobold Press booth 2537 at Gen Con.
This item is only available at the Kobold Store. Pre-order your copy today!