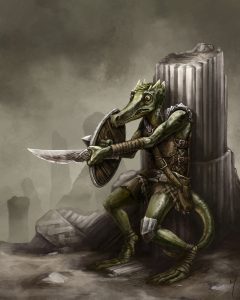 Magic plays an important role in fantasy settings. From the searing heat of the fireball spell to the well-known and well-loved magic missile spell that wizards have relied on over the years, magic can grant you enjoyment at the gaming table and give those with artistic talent an outlet for providing us with stunning art. Creatures formed from magic play in the minds of many a gamer as he or she rolls dice, and some folk draw what they see in their mind's eye and share it with the rest of us. Whether it's a wizard using High Magic to devastate an army, an artisan crafting a wondrous magic sword in an arcane forge, or an awe-inspiring scene depicting one of the World Trees of Midgard—we want to see what you see.
In other words, it's time that we had an art contest. Wow us with your own sense of wonder given visual form.
How does this work? First, think of something that is tied to magic that you simply must illustrate and then illustrate it. We're making the overall focus of this contest very broad so that you have room to play. You can choose whether you use pencils, inks, watercolors, pixels — as long as you can scan the image in (or convert it in the case of digital format) and send it to us in a jpg file, we are happy. Your submission will be evaluated by a panel of industry professionals and by the fans. As with other contests we've done here on the Kobold Press site, fame and prizes play a part in this again. (More on that in a bit!)
So, what do you need to do? First, read all the stuff beyond the jump, then start letting those artistic talents of yours take over.
Contest Entry
Here's how it works: To enter the contest, your art submission MUST…
ADDED May 15, 2013: Have been created in the previous calendar year.
UPDATED June 2, 2013:Be sent to the Kobold Artistry II Contest at miranda(at)koboldquarterly(dot)com no later than June 10, 2013, by noon PST.
Be submitted as a jpg attachment.
Read Kobold Artistry II Submission [insert illustration's name] in the email's subject line. Your full name and contact information should be in the body of the email (not in your attachment).
Be at least 300 pixels wide, but no more than 1MB in size. (If you win, we'll ask for a print-quality version of the file, so hold on to that original artwork!)
Judging
All submissions that meet the criteria will be entered in the contest and be judged by us, the Kobolds, and our guest judges on originality, artistry, and uniqueness. The 5 best pieces of art will be published here on koboldpress.com and be voted on by the public. Of those 5 art pieces, the one with the winning votes will become the 2013 Kobold Artistry winner.
So who's judging? We have a trio of extremely talented and wise judges: Wolfgang Baur, artist Terry Maranda, and art director Marc Radle. Take a look at their bios below.
Wolfgang Baur is the founder of Kobold Press, its publisher, and general go-to kobold. He enjoys the Gothic style in architecture, the Venetian style of rampant mercantilism, and the Dutch style in gardens and hydroengineering. For adventures, he's an omnivore. Wolfgang is the author of the Midgard Campaign Setting, the Dark*Matter setting, the Kobold Guides to Game Design, and a smattering of other RPG titles dating from the days when TSR walked the earth. Wolfgang lives in an impenetrable set of warrens near Kirkland, Washington.
Marc Radle is a professional graphic artist and designer by trade. He also does lots of freelance illustration, graphic design, writing, and game design for various RPG companies. Marc's very first professional RPG game credit (for illustrations, logo design, and graphic design) came in 1994's Aria: Canticle of the Monomyth from Last Unicorn Games. He is currently the Art Director and primary graphic designer for Kobold Press.
Last year's winner of the Kobold Artistry contest, Terry Maranda can be found in the mostly frozen wastes of Montreal, painting furiously with his nose to the screen, a digital pen in one hand and warm coffee in the other. During the day, he works as a lead artist in the video game industry, but at night he delves in to the darker side of his craft, designing battle-ready swords for Darksword Armory as well as illustrating tabletop RPGs, creating adventuring characters, viscous beasts, arcane items, and maps of distant lands for White Wolf (Exalted Series), Storm Bunny Studios (Rhune World), and BlackStar Studios (Shadowland). He also now creates denizens for the massive world of Kobold Press's Midgard. Our Kobold Artistry II contest image (above) is Krik, Terry's winning entry from last year's Kobold Artistry contest. You can learn more about him at his website.
Prizes for the 2013 Kobold Artistry Winner
The winning artist will receive a cover commission from Kobold Press, plus be interviewed for the Kobold Press website (more on that later). All five finalists will receive a gift certificate to the Kobold Store.
Additional Rules
1. The contest is open to all.
2. One entry per person. The entry must be your own work, which has not been published previously, is not being considered for publication by any other publisher, and is original and does not infringe upon any copyrighted material.
3. All entries become property of Open Design LLC. ADDED May 16, 2013: Artist grants Open Design LLC the right to publish the submitted art on the Kobold website as part of this contest. Winner grants Open Design LLC the right to publish the winning image in the Kobold Press newsletter and in similar promotional and publicity uses.
4. By entering this contest, you authorize the use of your name and likeness without additional compensation for promotion and advertising purposes in all media.
5. This contest is subject to federal, state, and local laws where applicable.
6. Open Design reserves the right to withdraw or terminate this contest at any time without prior notice.
7. All decisions of Open Design LLC and the judges are final.
Last year's contest was amazing in terms of the talented artists who submitted their artwork, and we are looking forward to seeing the creativity that comes from our vastly talented Kobold Press audience this year.