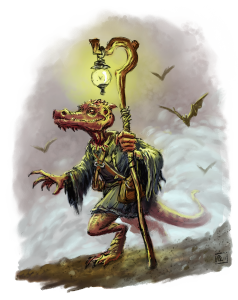 For those adventurers attending swanky feasts amid peerage or others who can afford to have ice sculptures, it might be more what's INSIDE the sculpture that draws their eyes. You can roll randomly for a result below, or use the handy number provided with each entry to figure out your result on a d12. You can also pick the one that works for the area in which your characters currently linger.
d12. Curiosity
It's not only a sculpture of a dragon, but someone put a baby dragon inside the thing—same pose, even!
The ice sculpture's belly is full of writhing worms. Or tongues. Or tentacles. Maybe all those.
This sculpture of a sword has a thin metal strip in it with runes that flash now and again.
Someone put a card in the sculpture. Big words say, "DIE," and then something is scrawled under that, but the ice limits your ability to read more.
The ice itself seems to be weeping blood from where someone stabbed it with an ice pick.
The ice sculpture's hands break off and start following you around the room.
You swear you see a translucent form hovering within this ice sculpture maiden.
Now, who would put jewels inside an ice sculpture?
You are pretty sure you see a hole to another dimension inside the bulkiest part of the sculpture. The whirling mystical energy ir reminiscent of one you've seen or heard about in the past.
Each time you look at the ice sculpture, it has changed slightly. Close watch reveals what might be some sort of creature within the sculpture subtly moving ice around.
What was a dripping form that looked vaguely like a griffin is starting to take a more clearly defined shape. Is it moving backward in time and unmelting?
Someone put a tiny dancing fire elemental into the middle of this sculpture. Or maybe it wants to live there temporarily. Who knows the whims of fire elementals?