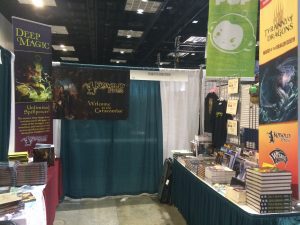 The kobolds arrived from near and far, and built a nice booth. It includes two convention exclusives, including a new T-shirt option and an entire Goblin Brewery adventure available to the first fifty visitors. We give them until Friday afternoon before they are all gone. When the last of them disappears, we will have a new surprise to share.
Speaking of surprises: We also have three friendly sasquatches at our booth. Yes, Kobold Press teamed up with Richard Baker, David Noonan, and Steve Schubert, AKA Sasquatch Game Studio, the creative team behind the Primeval Thule campaign setting. They're a fine crew and Thule is their very first Pathfinder Roleplaying Game book. This setup makes it possible for the Kobolds to run more events (such as the mysterious Southlands Delve series) and to eat lunches this year.
Also at booth 2537 this year: the remaining stock of our signed Hoard of the Dragon Queen collector's edition with exclusive Tiamat patch. We really have no idea how long they will last. Look for the Tyranny of Dragons banner way, way at the back of the hall. In true Kobold fashion, we believe it is far easier to defend the back of any warren than the front. Hail Tiamat!