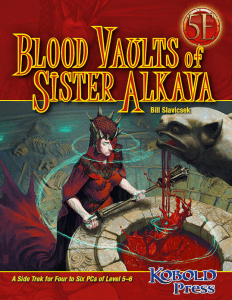 A Nightmare of Blood!
The village of Karvolia has always paid its annual tribute of blood to the Red Goddess—but this year, none of the donors returned. Now the priestess commands the village elders to send another dozen young men and women to the edifice of stone that looms on the cliffs overlooking the village: the dreaded Blood Vaults.
The terrified elders are willing to pay adventurers handsomely to find a way to make this second tribute pass them by. Unfortunately, the latest set of donors has already entered the Blood Vaults, and are being prepared for the donation process…
The Blood Vaults of Sister Alkava is a 5th Edition compatible adventure for four to six player characters of 5th to 6th level! It includes:
A macabre adventure set in the vampire-ruled Principality of Morgau and Doresh
Deadly new foes, including the blood pudding, blood zombie, and Sister Alkava herself
Gorgeous full-color art by Bruno Balixa, Micah Epstein, Marcel Mercado, Florian Stitz, and a map of the Blood Vaults by Michael Tumey
Written for the Midgard Campaign Setting, this adventure can be dropped into any Gothic 5th Edition campaign. Can you infiltrate the Blood Vaults, rescue the victims, and stop Sister Alkava before her power grows too great to contain?
Blood Vaults of Sister Alkava makes for a great Gothic October one-shot, and it is available now in the Kobold Store!