Ride Hard and Loot Everything!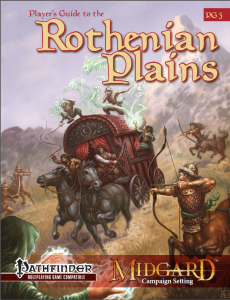 In Midgard's Rothenian Plain, the dangers are everywhere: slavers, demonic warlock, raiding centaur bands, bandits and more . But on the open grasslands, it is easy to make a life of banditry and adventure as well, for a fresh start is just over the horizon.
The centaur shamans, human horsemen, and elvish archers of the Plains are all justly famous for their skill and daring. Join their ranks with new archetypes, all-new gear, marvelous spells, and more than 100 new options for Pathfinder RPG!
This 31-page collection of materials provides players with a regional overview of the Plain and its tribes and rulers, plus a wide range of new powers and options for any Pathfinder RPG campaign, including:
Centaur and Ravenfolk racial traits, feats, and magic
New archetypes for Barbarian, Druid, Fighter, Paladin, and Shaman PCs
New spells and magic items including the magic of the Kariv gypsies and alternate human racial traits, new Lightning and Sky subdomains, and charms, summonings, and curses
A new sorcerous bloodline, the Stormraven
26 new traits and 6 new feats including Bleeding Shot, Overthrow, and Pinning Shot
New Rothenian witch hexes, both minor, major, and grand
8 new magic items including the wolf cloak and illusory glamour rings, plus 4 new magical arrows
An overview of the region, with its nomads, its slavers, and its customs
Pick up the Player's Guide to the Rothenian Plains at DriveThru RPG or Paizo today, and get ready to ride to glory!