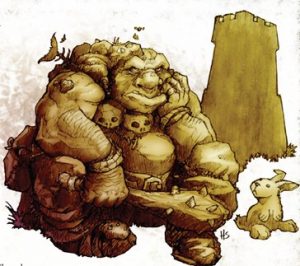 Now, most April foolishness is, well, sort of annoying. To counter that trend, Kobold Quarterly is offering something rather more use-fool than most.
Because we love you, all subscribers to Kobold Quarterly and all current Open Design patrons get a free — and somewhat silly — but totally playable adventure: the glorious Tyman's Taunting Tower by Christina Stiles!
(Oui, c'est vrai! Nous n'allons même pas jeter une vache à vous!)
This adventure is for PCs of level 9 to 12 using the Pathfinder RPG rules, and it includes a new family of ogre foes, a new golem type, art by Hugo Solis, and all the secrets of Tyman's Chest of Endless Irritating Items!
This is just our way of saying thanks for supporting KQ and Open Design. And the offer's good all week: Anyone who becomes a patron or subscribes to KQ in the next 7 days (before midnight on April 7) gets a free copy of this adventure as well!
How do you get this astonishingly foolish adventure? Subscribers and patrons, watch your inbox! Make sure your vigilance is unceasing and sure! A magic word awaits you.
Not a subscriber or patron? All is not lost!! You can pick up this fun and fast adventure right here in the KQ Store, or subscribe today and get it for free!