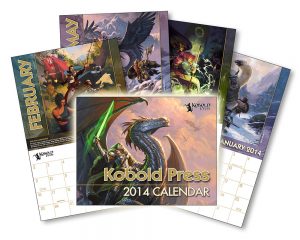 We unilaterally declare 2014 to be the Year of Adventure! And what is a Year of Adventure without a way to mark the days?
The 2014 Kobold Press 13-month Calendar brings you a new scene of wonder, mystery and adventure every month! From a ghoul-haunted dungeon to distant planes where the fractal dance of Law and Chaos orders the universe, this calendar features high-quality printing on heavy weight, coated paper stock that showcases these beautiful illustrations. The art is all by artists including Ben Wootten, Craig Spearing, Aaron Miller, and Ralph Horsley.
And there's more! This limited-release item also includes:
Release dates of iconic games, past and present
Release dates of landmark fantasy and science fiction movies
Birthdays of famous science fiction and fantasy writers, and gaming professionals
The 2014 Kobold Press Calendar makes a perfect gift for the fantasy, SF or gaming fan in your life—or the perfect addition to your own gaming den!
Get it at Paizo.com or the Kobold Store. A new year awaits—onward!