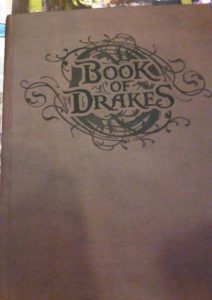 Conventions are a great place to show off extremely fun and cool things. From new roleplaying game releases to sparkly dice to fantastic art—you can see a wide range of new and interesting things. And that's one of the points of going to a convention, isn't it? That said, sometimes something is so utterly cool that you have to share it far and wide. So that's what we're going to do right now. Take a look at the coolest thing at the show as presented by Open Design: the preview version of Book of Drakes. If you are at PaizoCon and haven't had a chance to see this book, please do come over and visit us!
The image to the right shows you the cover. The gallery shows off some more of the cool elements in this book and is beyond the jump.
You can preorder your copy of
Book of Drakes
by visiting our store!