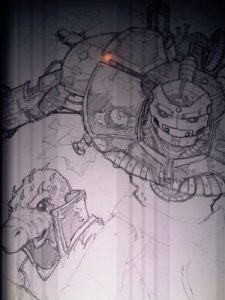 We're not exactly sure what happened to the second day, but it was a whirlwind of Midgard adventures (one from Tales of Zobeck, the other from Tales of the Old Margreve), of panels, of the huge banquet feast and the awesome sneak preview by our Paizonian hosts (excellent speakers, all!), and of the general whirl of art, maps, pitches, new discoveries. Heck, the kobolds even found a reptile-friendly lunch establishment with a red dragon.
So you can imagine, by the third day, things could have wound down after the bacchanal of the night before. And perhaps the dealer room was a little more subdued in the AM, but things kicked into gear quickly. Kobolds said hello and goodbye to dozens of fans and industry stalwarts, from Sean K. Reynolds and Jodi Lane to Clark Peterson. Goodbyes are always tough, but we trekked off to the lair happy to have sold every preview copy of the amazing Book of Drakes, having picked up some fine swag of our own, and secure in the thought that we'll have happy memories of the show to tide us over to PaizoCon 2012, just 364 days from now!
To see everything that we've covered during the course of the convention, visit the "The Kobolds Have Arrived: PaizoCon 2011" article.