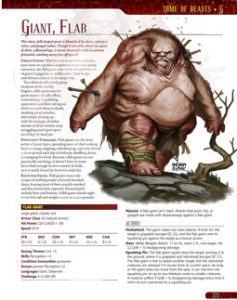 We kobolds have a saying: "When a giant's in the mines, workday's over."
The flab giant is not someone you want to stop and ask directions from. It only wants you for one out of a handful of possible reasons… and none of them are good. This walking mountain was originally designed by Ryan Costello, Jr. and updated to 5E for the Tome of Beasts by Chris Harris with art by Bryan Syme.
Chris Harris says, "The flab giant might seem comical at first, but wait until it gets a hold on you. Prepare for one of the more humiliating ways to die!"
This and hundreds of other monsters will be available very soon from Kobold Press.
You can pre-order the Tome of Beasts now!