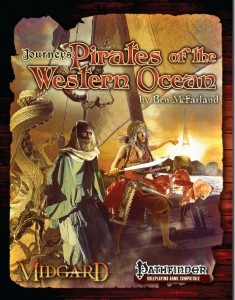 You've explored the Western Ocean from Barsella to Terminus Island, but you'll never truly experience it until you raise the Jolly Roger and strand law at the shore! Come join the ranks of pirates plying the shipping lanes, and make your own rules out on the high seas with ENnie award-winning designer Ben McFarland's new book Pirates of the Western Ocean.
Whether you're building fantastic ships with new construction templates, or rolling up delightful distractions in port with the random tables, any pirate-minded GM will find something useful in these pages:
Unleash 3 pirate bands and new ports of call
Explore 2 new adventure-packed islands on the Western Ocean
Deploy 13 personalities to assist or hinder your party on their next adventure
Pit your party against Thalassic creatures serving the Sea Titans
Discover 11 new spells, and the secrets of ancient aboleth glyphs
Learn new feats and liberate new magic items from the unworthy!
Plunder this sea-chest of ideas to fuel your own high seas adventures! Use it on its own, or with Journeys to the West, or with Wolfgang Baur's new adventure To The Edge of the World.
Pick up your copy of Pirates of the Western Ocean at Paizo.com or DriveThru RPG and set sail for riches!