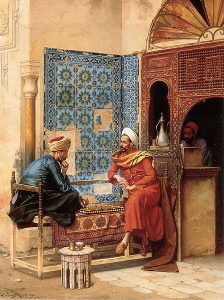 Welcome to Colin McComb's Now, the Twist. A dangerous journey that will force him to take a long, hard look at game design.
Join him, won't you… in his ongoing struggle to pass Go.
___
Even the best game designers out there—whether for tabletop RPGs, board games, or electronic games—occasionally deliver something that falls well shy of actual fun.
Of course, when this happens, we try very hard to see what the designer was trying to do. Quite often, there's a mechanic that's really brilliant or combines features from other games in a new and exciting way, but it's just that the overall execution failed. Some other element was lacking. Maybe it was the small details. Maybe it was the premise. Maybe it was the production value. Maybe it was the art style. It's a lot easier to blame someone else on the team than it is to examine our own behaviors, but passing the blame around doesn't do anything for you but cement your reputation as a jerk. It's better to look at what we could have done differently or better…
We have two choices when we fail as designers: learn from our mistakes or get on the internet to explain why our detractors are wrong (sometimes in less than polite terms). If you're talented or learning the wrong lesson, you can do both. The second choice, while momentarily more satisfying, leaves you feeling dirty afterward, and you can apologize or ignore it, both of which will incite some fresh new insight about you, and soon the discussion turns into a detailed critique of you rather than your game.
That's definitely not constructive, and it's not good for your game. That's why you're doing this, right? It's certainly not for the money, and you should probably know right now that while games are big business, game designers are not exactly "famous." It's more like we're (in the words of Monte Cook) "demi-famous," or famous to a small but devoted group of people.
But I digress.
So fame can't be your motive. It's not money. In that case, it had better be the game. So focus on your game and try to make it awesome. Of course, we each have our own ideas about what games are awesome and what games are not, and it's hard to admit that our ideas aren't panning out. In fact, this is one of the easiest traps for a designer to fall into. It's extraordinarily simple to start believing the hype of your own mind, just as it's easy to fall into the trap of believing your work is no good. Both of these are terrible traps, and I urge you strongly to avoid them. Fortunately, you have an easy way to get out should you stumble in.
One of the first and easiest ways to find out if your game is any good is to test it out. That sounds simple, but it's not. To playtest effectively, you need people who aren't going to filter their feedback based on your reaction. Maybe you've got jerky friends who always talk crap about you because they think it's funny—these guys can't be trusted to give you honest feedback. Likewise, your siblings aren't a good test audience because they have the weight of your shared history, whether good or bad.
So you need to test with strangers. And then you need to filter their feedback too. If one person says a game isn't fun, they're a blip on the radar. If five people say it, you've got to start thinking about what might be wrong. And if 50 people say it, you've got your work cut out for you, and you should be ready to answer some hard questions. For one, why are you showing your game to 50 people if it isn't fun?
Or maybe they all love it. Regardless, they're going to have questions, and they're going to make suggestions. Before you take all of theirs, though, I have a few of my own.
Make sure your numbers work. Balance is important, and if your game isn't balanced, one side will have all the fun, at least for a little while. But they'll never be able to convince anyone else to play with them more than once, so that's not a great sales strategy.
Present the meaningful information in your game clearly and succinctly. I love to write complex and wordy sentences, and sometimes I fall in love with my writing style (though why this could be is beyond my powers). Let me be declarative: this is bad. Important information should be succinct, concise, and to the point. You want there to be no question how you intended the game to play.
Mechanical benefits should be balanced with mechanical drawbacks and flavor benefits balanced with flavor drawbacks. I say this from personal experience. Once, early on, I crossed those streams in The Complete Book of Elves when I created the elven bladesinger. The kit got a great deal mechanically speaking, but boy, did they pay for it in the flavor aspect. What I didn't consider was that some people don't roleplay, or bring the bare minimum to the table to get by. In other words, I ignored a large portion of the player base and empowered munchkins, and I rightly got dinged for it. In fact, I'm still apologizing for it, 17 years later although with a lot less frequency now.
Of course, none of this advice adds up to a specific recipe for fun. Throwing a pile of numbers together and making sure they're even on both sides of the balance sheet is accounting, not playing. Anyone can break out a spreadsheet (though some with significantly more facility than others), but not everyone can bring that elusive idea of fantasy to life. To make your game sing, you need imagination and fire.
But where do you get that?