"Ye weren't there." Günter's hand shook as he reached for the tankard. "They donna care what they hit. Donna care who's in the way, cacklin' as they fire. Cacklin'…" He gulped at the drink, spilling down his chin, then wiped foam from his braided whiskers with the back of his scarred and puckered hand.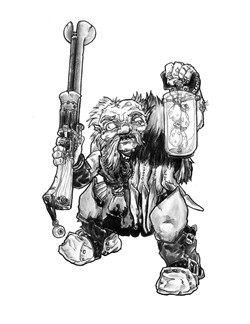 "Ye understand, we weren't greenhorns. We'd seen our share o' tunnelfightin'," he looked at us with a quiet desperation. One eye was milky white from acid burns.
"They turned oathbonded against one another. Brothers cut down brothers." He swallowed hard and waved for another drink, his voice choking. Before, he had smelled of sweat and stale beer. Now he reeked of fear. "And they take captives. Volund be merciful, I ran… I ran…"
Some races call them derro, but to the dwarves of the Ironcrag Mountains, they are Forsaken, a lost tribe banished to the deep cantons and left without Volund's mercy. Their madness and wanton violence are best not spoken of.
Asking too many questions about the derro turns welcomes cold and stares suspicious. But veterans of brutal skirmishes in lost tunnels and crystal-filled grottoes can tell you of their crazed laughter, their cruel nature, and their armory of twisted weapons. Beware the Forsaken, they say, and don't allow them to take prisoners. No one deserves that fate, not even your worst enemy.
Derro Deathspittle Bombardier Level 10 Artillery
Small natural humanoid XP 500
Initiative +10 Senses Perception +11; low-light vision, Darkvision
HP 84 Bloodied 42
AC 22; Fortitude 22, Reflex 20, Will 24
Resist 5 (psychic)
Speed 5

M Shortsword (standard; at-will) • Weapon
+17 vs. AC; 1d8+5 damage.
W Weeping Bombard (standard; at-will) • Weapon, Poison
Area Wall 8 within 8; +13 vs. Fortitude; 2d6+5 poison damage and target is slowed (save ends). If target is already slowed, target becomes weakened (save ends).
W Sloughide Bombard (standard; recharge 5, 6) • Weapon, Acid, Poison
Area Wall 8 within 8; +13 vs. Reflex; 3d6+5 acid damage and target is immobilized (save ends).

W Murderous Bombard (standard; recharge 6) • Weapon, Charm, Poison
Area Wall 8 within 8; +13 vs. Will; 2d6+5 poison damage and ongoing 5 poison damage and target is dominated (save ends).
Desperate Cover (immediate interrupt against a ranged, melee, or close attack; encounter) • Weapon
Deathspittle Bombardier gains resist 10 against the attack.
Clarity of Madness
A Deathspittle Bombardier cannot be dominated.
Cruel Blow
The Deathspittle Bombardier gains +1d6 damage when he has combat advantage.
Alignment Chaotic Evil Languages Common, Deep Speech
Skills Athletics +12, Dungeoneering +12, Perception +11
Str 15 (+7) Dex 21 (+10) Wis 13 (+6)
Con 18 (+9) Int 15 (+7) Cha 18 (+9)
Equipment chainmail, shortsword, Forsaken Tower bombard with weeping, sloughide, and murderous canisters.
Deathspittle Bombardier Tactics
Derro attack with brainwashed slaves from various underground races, sometimes even pressing ghouls into their service and sating their hunger with the meat of those who fall in battle. They operate at the fringes of the battlefield, spraying the contents of their shield-mounted bombards with the gleeful abandon of a race that lives to enslave foes and inflict pain.

Deathspittle Bombardier Lore
A character knows the following information with a successful Nature check.
DC 15: Derro are found in deep caverns and occasionally the ruined warrens of other underground races like goblins or orcs. They are said to be insane and cruel.
DC 20: Deathspittle Bombardiers shoot strange concoctions from behind shield-mounted sprayers. Some burn, others paralyze, but all of them poisonous and unpleasant.
DC 25: All derro have some resistance to mental damage, and Deathspittle Bombardiers cannot be dominated due to the twisted madness that grips them.
DC 30: The Forsaken were once dwarves, but a cursed, magical disease and the callous disregard of their own uninfected brethren drove them to seek out their strange, crazed god—whom they serve with sacrifices and unspeakable ritual.
Encounter Groups
Known as slavers and the insane zealots of twisted gods, derro attack alongside prisoners and wretches tortured into obedience. They try to take captives, but don't care if no one survives.
10th Level Encounter
(2000 XP) • 4 PCs:
2 Deathspittle Bombardiers
1 Minotaur Warrior
5 Hobgoblin Warrior Minions
(2500 XP) • 5 PCs
2 Deathspittle Bombardiers
1 Minotaur Warrior
1 Ogre Skirmisher
7 Orc Warrior Minions
(3000 XP) • 6 PCs
3 Deathspittle Bombardiers
1 Minotaur Warrior
1 Ogre Skirmisher
7 Orc Warrior Minions

This makes three 4E monsters in a row, and the third is of course a sneak preview of the 4E Halls of the Mountain King. More derro lore and incantations are available in the Kobold Ecologies.