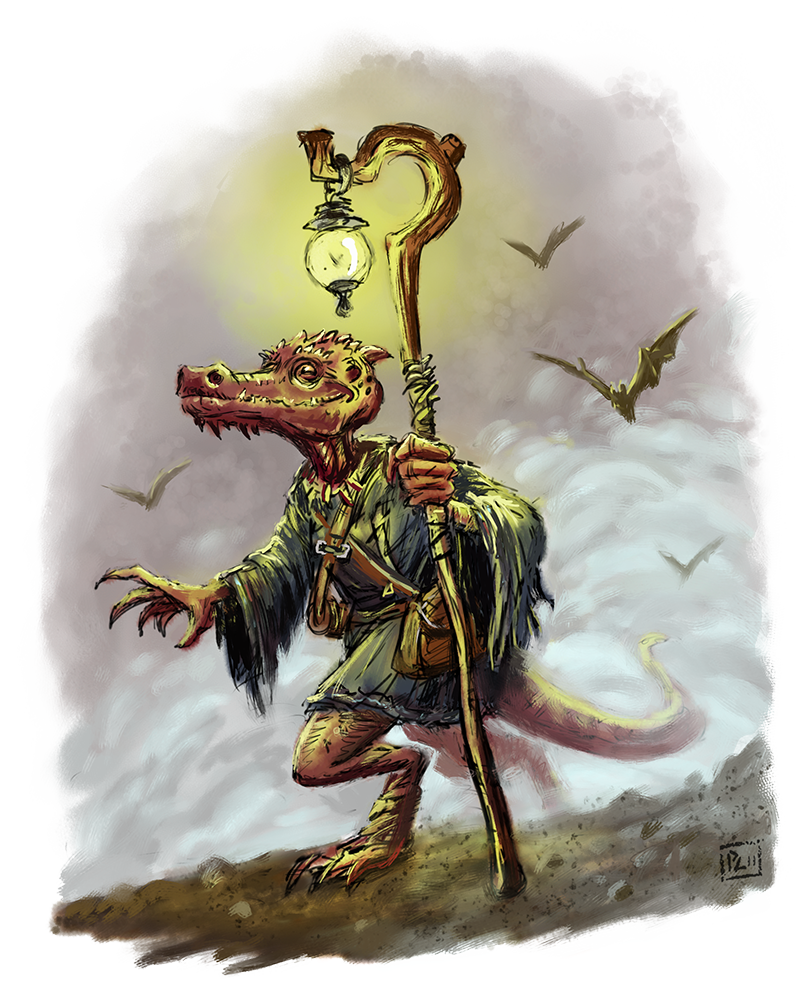 Something unnatural, leviathan, and invisible moves beneath and behind the hollow, brightly painted scenery of "the world." The wind picks up for just a moment—screaming—as a hideous, nameless chill races down your spine.
You immediately regret failing that save, botching that Perception roll, drinking that odd "bruised pool table and yogurt golem"-colored elixir, drawing just ONE more card from the mysteriously glowing magical tarot deck, whiffing your "kaos magick go BWAP lol" roll, lipping off to that ONE archmage, and/or getting out of bed this morning.
As to the chill, it's a lot like the feeling one imagines one would get when the wizard-ball team one is coaching (most likely as part of a community-service plea bargain) wins the big wizard-ball game and several of one's star wizard-ballers dump a whole big cooler full of ice, ice demons, water elementals, salt elementals who drink a lot of caffeinated beverages, one random lightning mephit, and crisp, clean, refreshing Wizargatordatorade™ over one's head and—subsequently—down the back of one's pants in riotous celebration.
This flavor-text brought to you by Wizargatordatorade™. Try a big frosty mug of crisp, clean, refreshing Wizargatordatorade™ today!

NOW AVAILABLE IN GREEN (the flavor), BLUE (the flavor), OTHER BLUE (also the flavor), LIGHT BLUE (the section of the visible light spectrum), BLLUUEE (the abstract concept thereof), BHJLYÜÉ (the more audacious, nuanced, and complex varietal of the blue "flavor"—you probably wouldn't like it), JEFF BLUE (for wizards named Jeff), SPAM BROTH, BIKE LOCK, BLUE, CHICK'N NUGGIES, REVERSE BLUE, DOLL FACTORY, EXPIRED MARINE RESCUE EQUIPMENT, FACE-PRETZEL, BLUE (the third flavor), 7 OZ. HUNK OF QUARTZ, and LEMON (the color).

Sold in nearly every creepy, haunted-looking old vending machine found at the back of a half-abandoned laundromat—ever-so-slowly being reclaimed by the woods—that has a Goonies 2 arcade cabinet by the front door!

Wizargatordatorade™: it has (or will have had) "nutrients" in it!
Except instead of splashing over your skull, this weird bucket of foamy anti-lava sloshes directly down through your noggin-bone into your head-brain.
And stays there with its boots still on and its feet up on the couch.
At about the same time, you notice a glossy, high-end fashion/celebrity gossip/lifestyle magazine clutched with a rictus grip in your ever-so-slightly-damp fist. Its luxurious, silken depths smell of exotic tobaccos, free cologne samples, "non-toxic" ink, and only the finest of dentist waiting rooms (right by the fish tank).
Your eyes bleeding, nearly vibrating with curiosity, you examine the bizarre and cursed document…
[A single unpronoucable, invisible arcane glyph cut from raw, 27th-dimensional force-magic, stamped on the cover of this month's hot, hot must-read issue.]
Development. This rune, when examined with any type of magical or supernatural sight, translates (roughly) to "Pill-Popping Archmage Sex-Scandal Monthly, the celebrity gossip and lifestyle magazine for wizards who are cool and have lots of friends and who totally could be party leader if they wanted to but prefer to focus on the VAST MYSTERIES OF THE UNKNOWN and let the 'children' argue about 'where to go next' and 'wait, did we get paid' and 'should we maybe not have trusted and/or fireball-ed that one guy'"
IN THIS ISSUE
DETECT HOTTIE!
The Head-to-Head, Heart-to-Heart
All-Vampire-King vs. Demon-Prince Issue!
TWO exclusive interviews! With TWO of the sexiest bachelors in the realms of the damned!
First, we break it down and "get real" with k'Qlruanfhylrts the Night-Drenched Blasphemy, star of [Formulaic Wizard-Themed Soap Opera #31.8].
We talk exes, family, love, moving on, learning to forgive… and ALL the behind-the-scenes shakeups on the show, including the ongoing ratings-war with [an hour of static and an embedded psychic effect that forces your brain to release double dopamine], currently the HOTTEST show on television! And don't worry, you sick rubberneckers, we brought-up ALL the hot, juicy, shameful, disgraceful slander we could until we were thrown off-set by security and one of our interns died!
Then, we kick back and keep it "cool with the Count": that's right, we discuss ab-crunches, hair gel, bat-maintenance, and throat moisturizing tips with Count Hunkula VonSaint-Noir Gothnyme, star of the Dark Romance Sex Blood Sad Trilogy: Lament of Fatal Immortality Moonlight Saga Part 4: Rising Midnight Werewolf Horniness.
Our notes on that interview are admittedly a little fuzzy? And I think we're maybe missing a reporter? But the point is that the Count is—in a legally binding sense!—ALWAYS welcome to invade our homes ANY time!
PLUS!
SUMMER IS COMING!
Get the rockin' beach-bod you've always dreamed of with these ultra-hot graverobbing tips!
THE FLYEST OF THREADS!
Our intimate interview with Grathnor the Enchantrix, legendary fashion maven! The go-to garb for the stylish wizard THIS year? A shapeless midnight-blue robe/cloak covered in bright-yellow stars and moons—a classic!
How Chaotic Evil is TOO Chaotic Evil?
One Investigator's Special Report on Underground Cult Succubus Bikini Pillow-Fight Rings!
EXCLUSIVE!: Succubae Are Our Beloved Mistress-Queens; All Must Submit Themselves—Body, Mind, and Soul—Before Their Majestic Glory & Awesome Power: A heartfelt plea from award-winning journalist Zazzchak the Investigator
THE DOPEST OF RAIMENT!
Take a private sneak-peek behind the velvet curtain as Yazchabaad of the Horns Eternal, cutting-edge fashion expert, reveals this year's hottest look: a shapeless royal purple robe/cloak covered in flashy silver stars and moons—a daring new style!
A CHARM-(MONSTER)–ING EXTRADIMENSIONAL SPACE MAKEOVER!
Take the bland, featureless "area" in your portable hole from drab to FAB with these too-cute decorating ideas… and save lots of space with our unique stack-and-nest bag of bags of bags of holding cupboard/bookcase design!
PLUS!: A sternly worded letter from our lawyers instructing you, the reader, to very much not do the cool thing we just told you to do and explained how to do!
HEALTHWATCH
Do you have any of these 17,895,634 extremely, dangerously common interdimensional magically transmitted diseases? Do you know the symptoms? Do you want to die, man? Has your head recently fallen off your torso? Has all of your blood exploded? Have two or more of your limbs been replaced with lobsters? Here's what to watch for—and how!
ARTIFICERS: SCOURGE ON OUR COMMUNITY: AN IN-DEPTH LOOK
Just what are those smarmy, ugly basta- lovable little scamps up to now?
[EDITOR'S NOTE: Look, folks, I hate artificers as much as the next guy, but c'mon. You CANNOT put a stream of seventeen pages of wizard's profanity on the cover of the mag, especially not anything that'll make people bleed uncontrollably from the invisible secret organ located perpendicular from the nostrils if they read it. This is the last time I'm gonna tell you this before I have one of you—Steve, I'm very specifically looking at you here—clean out your desk. Final warning.]
ALSO, IN THIS ISSUE: How to Blame a Magical "Explosion" that "You" "May" Have "Caused" on the new Artificer: A Practical How-To Guide by Flamboozlor the Unblamable, Jester of Many Infinite Alibis
BATHING: HEALTH-FAD FOR IGNORANT, MOUTH-BREATHING BARBARIANS
IS THIS PIT INFINITE? HOW TO TEST!
I TURNED MY LANDLORD INTO A BLOCK OF FROZEN CARROTS! ONE WIZARD'S HARROWING TALE OF COVERING-UP THAT CRIME
EYE ON THE SHATTERED MACHINE OF SO-CALLLED "SOCIETY": IS THE MEDIA DOING ENOUGH TO GLORIFY WIZARD-ON-WIZARD VIOLENCE?
No, says Dr. Murder-Blade Hellspawn-Jones, President of the National Chapter for More Movies Where Wizards Blow S*** Up
THE ILLEST OF VESTMENTS… MY SOUL SWIMS IN IT!
In a surprise guest-appearance during another interview, Grathnor the Enchantrix publicly tells Yazchabaad of the Horns Eternal, "DON'T TEST ME B***H, I WILL CUT YOU."
Could YOU Defeat the Team Paladin in a Fair Fight?
Take our fun quiz to find out that the answer is no!
SHOCK TWIST!
Yazchabaad of the Horns Eternal threw a rotting yak carcass in Grathnor the Enchantrix's pool!
FIRST LOOK!
Grathnor the Enchantrix and Yazchabaad of the Horns Eternal bumped into each other at a brunch and literally beat each other into unconsciousness in broad daylight… and you'll never BELIEVE who won!
The Lovelorn Arcanist Returns… to answer your pressing romantic/occult questions!
Dear Lovelorn Arcanist,
Is it weird to ask the warlock's patron out? What if it's just for a work thing? As friends? Not even a "date" date. Or like, maybe just for coffee? Lunch, nothing big. Whatever. And, uh… what if "coffee" turns into something more?
READ IT ALL, Exclusive to [SINGLE UNPRONOUCABLE, INVISIBLE ARCANE GLYPH] Magazine!
WITH RELATED ARTICLES
Planning a Wedding with an Abyssal Entity
While on a budget and also very specifically while looking for a venue that is not a church
HELP! Our Children Are Sorcerers! EWW!
How to get your gross sorcerer children into an elite wizard academy without anyone noticing
Dueling a Jealous Warlock: A Beginner's How-To
Spells to prep, mistakes to avoid, allies to garner, who to poison and why… andwhere to find that super-rare magic jewel that makes YOU immune to warlock-blasts!
Got Trapped in a Cursed Magic Jewel?
Hey, whatever! Sometimes, wacky stuff just happens. Follow these five simple tips to spiritual, financial, and (theoretically) physical freedom!
AND DON'T MISS: Page after page of the most messed-up singles ads you've ever seen!