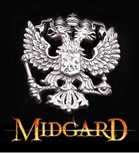 Week 1 of the Midgard campaign setting is now complete, and it has been full of surprises!
One non-surprise is that the Pathfinder RPG is the most popular set of rules patrons want for the setting. The bigger surprise of the week is that the Dragon Age RPG is the second most-popular.
The shocker is that 4th Edition D&D is not even in the top three. It fell behind 3.5 Edition Dungeons & Dragons, an edition unsupported by new releases. I know 4th Edition projects often see fairly shallow support, but I have to say it seems to have dropped to a whole new level. As a result, 4th Edition D&D may be out of the running as a supported rules set for Midgard—unless some strange late rush occurs. New results after the jump.

For one, the Midgard world was designed and run with 4E compatibility in mind. The D&D releases from Wizards of the Coast have all been releases from the 1E, 2E, and 3E era: Forgotten Realms, Dark Sun, and Eberron. There's been no 4E-from-the-start setting.
The other reasons it's odd is that—much as I love the AGE system, it is fairly closely linked to a single setting, Thedas. But like True20, it may be that Green Ronin has some mechanics that transcend setting, and are just great, fast fun.
So, patrons have surprised me again.
New Results as of Sunday Night: Dragon Age is still in second place, but 3.5E D&D has been left in the dust by an influx of votes for 4th Edition Dungeons & Dragons. It's a legit battle for that second rules slot, and it ain't over till it's over.
Maps and Funds
Discussion is early but busy. The patrons have downloaded the Midgard setting map and considered some tweaks to the Seven Cities region, perhaps turning a peninsula into an island. There's further discussions coming, but overall, we're off to a good start.
That good start also applies to project funding. We're over the 60% mark, which is remarkable in just 7 days! My sincere thanks to everyone who has stepped up so far.
Next week's plan: Discussing the first 3 or 4 regions, and I expect will close the gap to fund the second half of the project. Join the project today!
What do you think of the AGE System leap into the limelight? If you voted for it, is it your primary system or more of a light-rules change of pace?