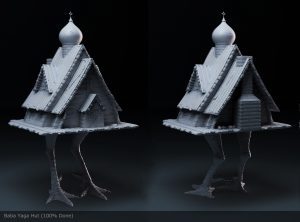 If you haven't already kicked in for the Midgard RPG Miniatures, or if you're on the fence for bumping up your funding level, you definitely need to take a look at these images.
Pictured to the right is Baba Yaga's Hut, and you'll see the art and sculpt for the gypsosphinx down at the bottom (with art done by Darren Calvert).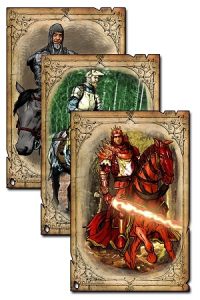 The four sculptors working on this project—Jason Weibe, Fancagne Didier, Drew Williams and Tim Prow—have been busy! And, as of this writing, you'll see on the Kickstarter page that the next stretch goal takes us into Baba Yaga's horsemen. We're not that far away at all! Here's more on those three potential miniatures, including an art reference (but no sculpt) for them:
Our next 3 Stretch Goals are Baba Yaga's Horsemen Red Sun, White Day and Black Night (also known as Red, White and Black). These three horsemen are legends throughout Midgard, and are Grandmother Winter's faithful emissarys, scouts and warriors abroad.
So, go take a look and kick in if you can!