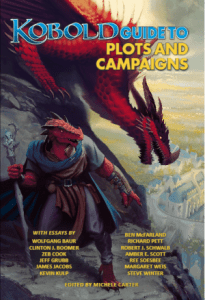 Want to get more out of your games? Want to be a better gamemaster? Who doesn't…?
The Kobold Guide to Plots & Campaigns has just released. It's now available in the Kobold store.
It brings you essays from some of the most respected professional gamesmiths around—like Wolfgang Baur, Jeff Grubb, David "Zeb" Cook, Margaret Weis, Robert J. Schwalb, Steve Winter—who direct you in building your campaign, engaging with your players, and telling a better story. Discover how these seasoned gamemasters have been entertaining their players for years. Devour their collected wisdom, and learn how to have more fun doing what you love.
Give your game a kick in the pants and advance it to a new level.