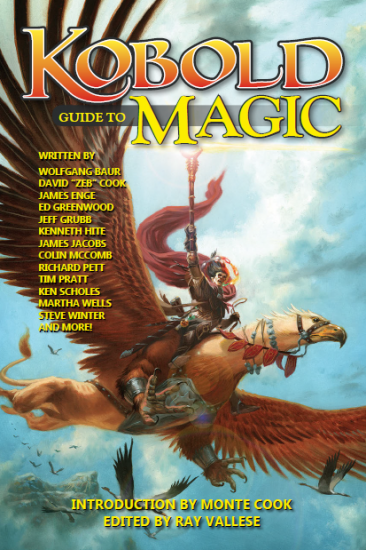 The newest volume in our award-winning series of game design guides goes deep into a single topic: the burning, shimmering, prismatic heart of fantasy itself…
What makes a fantasy fantastic? Magic, of course! Whether it's unearthly beasts, scheming sorcerers, legendary swords or locales that defy logic and physics, a compelling fantasy story needs magical elements. The tricky part is that in order for the story to work, you have to get your reader or player to believe the unbelievable.
The Kobold Guide to Magic takes you behind the scenes to learn the secrets of writing about magic from 20 top fantasy authors and game designers. It's like going to wizard school, and Ed Greenwood is the headmaster.
This essential companion for fantasy gamers and readers alike features essays such as:
Explicable vs. Inexplicable Magic by Clinton J. Boomer
Do Not Call Up What You Cannot Put Down by James Jacobs
Staff and Moon: Gender-Based Magic in Fantasy by Amber E. Scott
Invisible Colleges: Magical Societies, Secret and Otherwise by Kenneth Hite
Selling Your Soul: A Guide by F. Wesley Schneider
…and many more!
Your distinguished faculty consists of experts in the field: Monte Cook, Jeff Grubb, Clinton J. Boomer, Amber E. Scott, Wolfgang Baur, Ken Scholes, Ed Greenwood, Willie Walsh, David Chart, James Jacobs, Colin McComb, Kenneth Hite, Aaron Rosenberg, John D. Rateliff, Thomas M. Reid, James Enge, F. Wesley Schneider, Martha Wells, Richard Pett, David "Zeb" Cook, Steve Winter and Tim Pratt.
This latest volume in the best-selling and award-winning series of Kobold Guides tackles the mystery at the heart of the fantasy genre. Conjure your copy today at the Kobold Store, DriveThruRPG, Paizo, Amazon and Kindle.