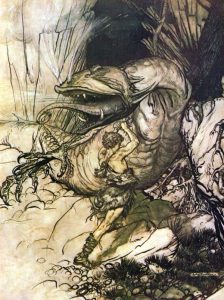 I'm no scholar of Robert E. Howard, just a fan of his storytelling and his best-known character, Conan the Barbarian. Conan first crossed my reading list when I discovered a shelf of dog-eared paperbacks at the local second-hand shop. I was still a relative newcomer to swords-&-sorcery fiction at the time, and Conan was unlike any hero I'd encountered in the welter of Tolkien clones at the library.
Being young and impressionable, I read the stories nonjudgmentally. I didn't know what portions came from Howard, from Carter, or from de Camp. The word "pastiche" wasn't in my vocabulary. All three names got credit for everything, good and bad.
No one should be surprised, then, that Conan looms so large in my imagination and in my preferences when it comes to FRPs. Conan and Howard taught me many valuable lessons for navigating the worlds of high adventure.
Magic should be feared. Anything less than fear reduces magic to the level of an automatic coffee maker; its inner workings may be shrouded in mystery, but you know in your heart that it's your friend. Magic need not be reviled, but it deserves the hefty deference afforded to professional wrestlers, nuclear bombs, and other cruel forces that can snap your spine or vaporize a major metropolitan area, especially when they are controlled by people who are more than likely insane.
Anarchy is good for adventurers. Unsettled times, weak central authority, and untamed frontiers are where the action is.
Never trust anything that's too civilized. Civilization is decadent. Being accustomed to his wild Cimmerian homeland, Conan had little use for bureaucrats, kings, politicians, or anyone else who sought to impose their limits on other people. Any authority that didn't serve the interests of the average Joe—in the Hyborean Age, that describes pretty much all of them—was no authority at all. If it couldn't be ignored, then it deserved to be dismantled guard by corrupt guard and priest by cruel priest.
Never trust anything that's even remotely serpentlike. You'd think this would go without saying, but if ever there's a time when excess caution is justified, it's when scales and forked tongues are involved.
Even the bravest heroes run away sometimes. No one should shy away from death when the time is right, especially if you can bring a half-dozen of the bastards' heads with you to toss at Crom's feet. Some foes, however, aren't worth getting killed over. That goes double if their only motivation for picking a fight is because they hunger to lick the protein from your bones after softening it up with digestive slime.
The Hyborean Age is as much a character as Conan. Conan is a unique product of the Hyborean Age, but that world is also shaped and altered by him. Neither Conan nor his world is whole without the other. That relationship between character and setting is what every GM and player should strive for in an RPG campaign. It's what brings the world to life in the participants' imaginations.
If you're a casual fan of Conan and Howard who'd like to learn more, then spend some time exploring the Robert E. Howard United Press Association website. It places an amazing trove of resources at the tip of your curved, wickedly sharp Nemedian blade.