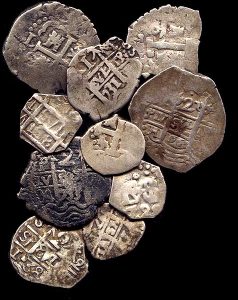 "Congratulations! You slay the dragon."
"Sweet, we loot its lair!"
"Unfortunately, you're nowhere near its lair. Looks like you'll have to settle for the XP."
"Forget that! Our cleric casts find the path. We will not be denied triple treasure!"
"Oh dear…"
Player characters can be a greedy bunch. What is a GM to do when an unexpected turn by the players or a disproportionate random encounter leaves the players with far more money than they should have? Why tax it, of course!
If you don't want to do too much troublesome math at the table, taking 10% of the party's income is the simplest in math terms: Take the total treasure, move the decimal one place to the left, and take that much (so, if the party rakes in 17,000 gp, the tax would be 1,700 gp).
But, what do you name this tax? It should have a world-based reason for being there, right?
If your campaign setting doesn't have specific taxes in place already, you might need to come up with a name and a quick scenario as to how this tax is being collected. The following table can be used to come up with a name for a tax or fee. Pick something that sounds good to you or, if you want something random, roll 2d10 to get your result.
| | | | |
| --- | --- | --- | --- |
| First d10 | | Second d10 | |
| 1 | Carucage | 1 | Charge |
| 2 | Common | 2 | Duty |
| 3 | Custom | 3 | Fee |
| 4 | Excise | 4 | Fine |
| 5 | Feudal | 5 | Geld |
| 6 | Gate | 6 | Price |
| 7 | Inward | 7 | Rate |
| 8 | Poll | 8 | Relief |
| 9 | Poor | 9 | Tax |
| 10 | Road | 10 | Tithe |
As for scenario, consider one of the following, or let the words in the table above guide you in coming up with a scene to play out:
Word Spreads: After killing that dragon (or other well-known hoard-loving beastie), the adventurers might brag about their success, which could bring all manner of actual tax collectors around—plus some folk who are pretending to be tax assessors so as to dupe the heroes out of their recent gains. How this plays out is up to you, but having both sorts of folk attempt to gather taxes on the same day? That could be a priceless bit of roleplaying fun for your group.
Need vs. Greed: Not everyone is as well off as the heroes might be. The next time the characters stop at a temple or even a town or city, they might be approached to give some of their earnings to bolster a benevolence fund. In this case, some of the words choices in the table above are more appropriate than others. Those in charge of the fund might even attempt to show the heroes just how they're helping the poor and needy by bringing these folk directly to the attention of the player characters. This particular scenario could also serve as an excellent way to introduce a new adventure hook, so along with the tithe or relief fund that these characters donate to (maybe), a service might be requested, leading the heroes into their next big adventure!