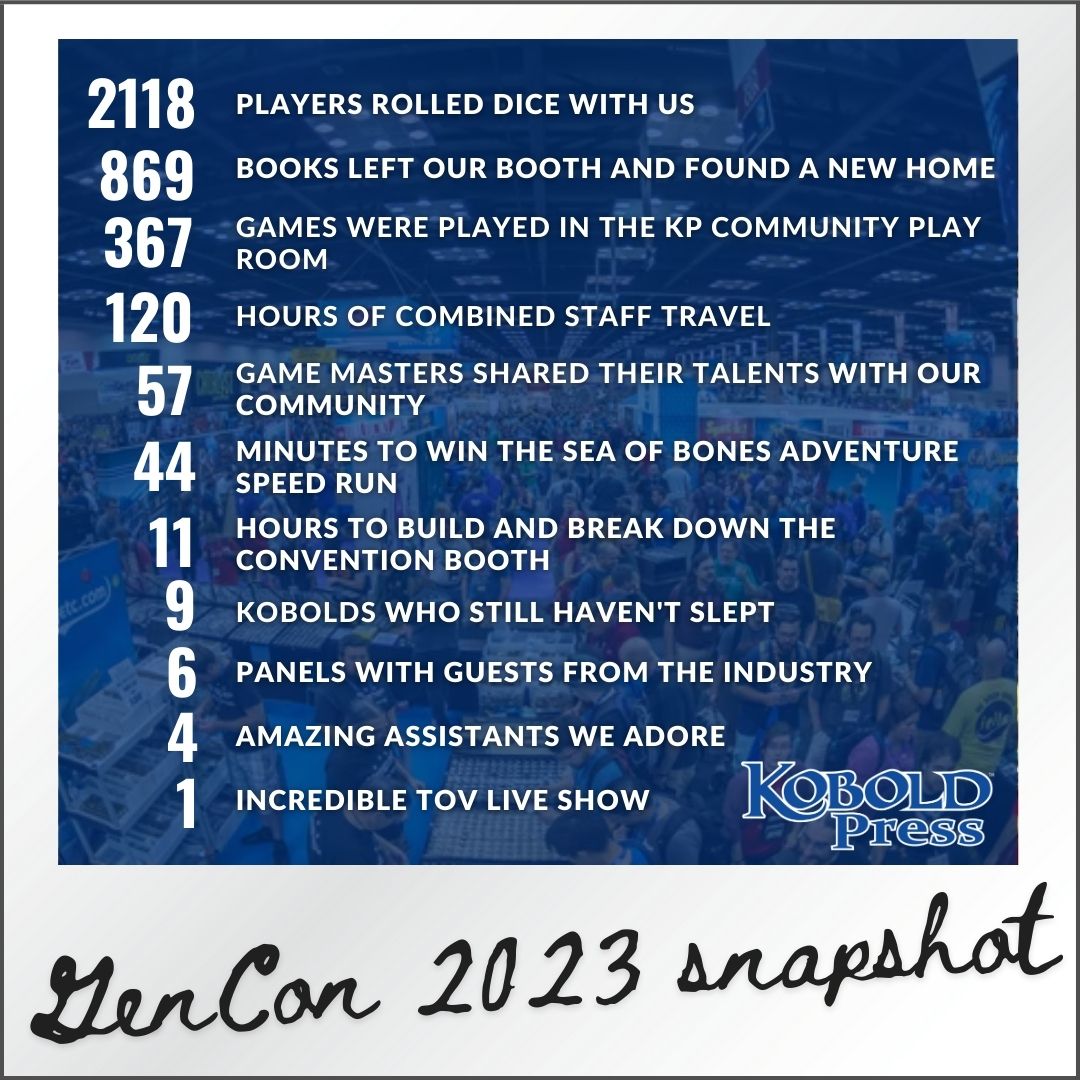 Through long hours of travel and the hottest Gen Con to date, the Kobolds are happy to report that Gen Con 2023 was a huge success!
This year was Gen Con's biggest attendance year ever! It was also the biggest one for Kobold Press, including our live playtests for the Tales of the Valiant roleplaying game.
Now that we've caught up on sleep and had a moment to think, here's a recap of some of our favorite things from this year's Gen Con.
Exhibitor Hall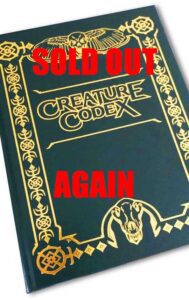 Over eight hundred books found their way to new homes during Gen Con. Campaign Builder: Cities and Towns was our top seller. We sold out on Saturday!
You might have heard that we're moving our warehouse to a better location. It's true! In the process, we found a handful of Limited Edition Creature Codex books which sold very quickly. For those of you who got a copy, we hope they look as good on your shelves as they did at our booth!
If you missed dropping by, or were unable to attend, no worries. We've got a virtual booth set up where you can grab our latest titles and anything you missed at GenCon. Visit the virtual booth for the full lineup!
Community Play
This year, Kobold Press doubled the size of our community games . Over four days, we saw 57 GMs run five adventures over 367 game slots for more than 2000 players!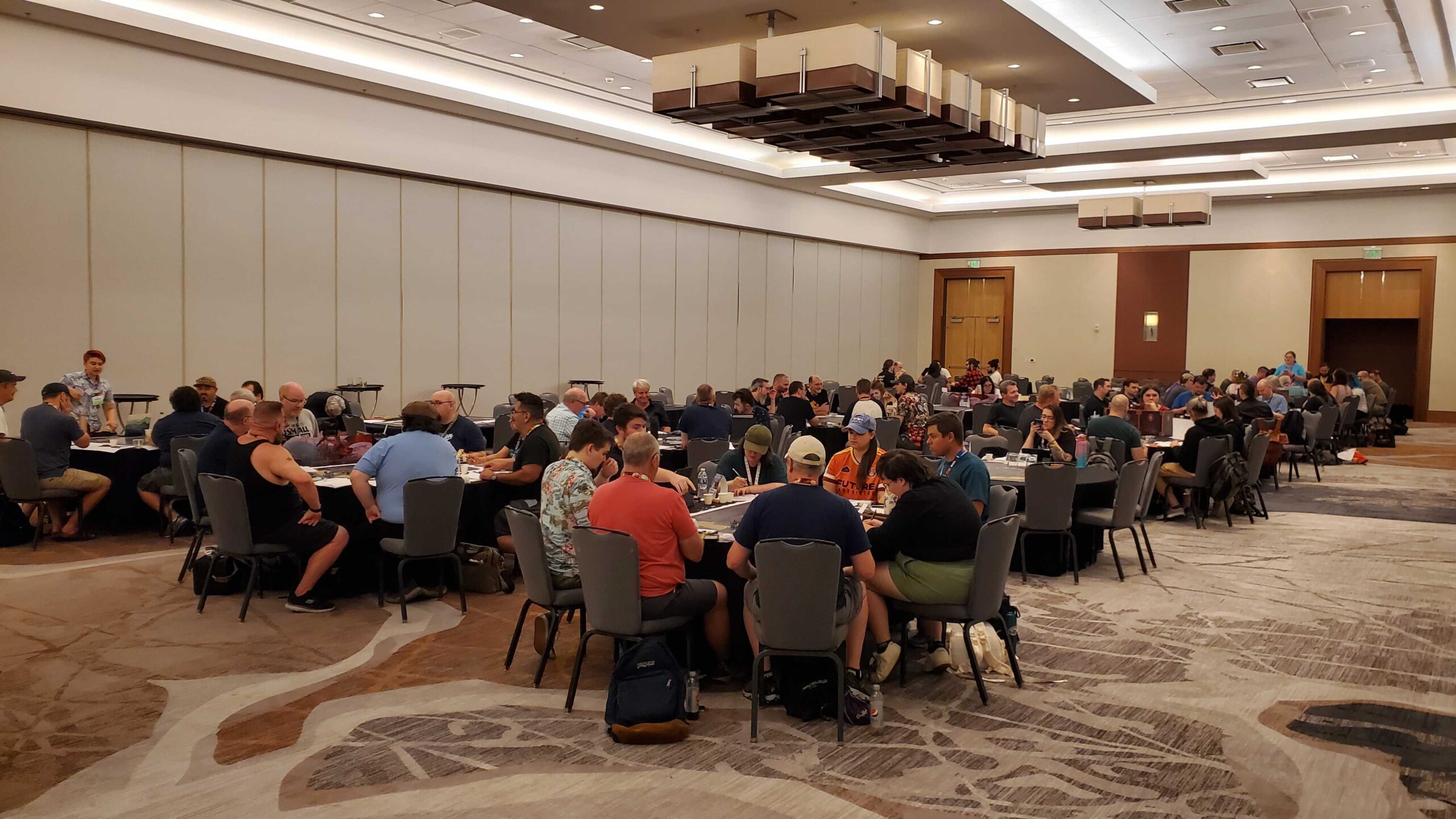 If it were somehow possible, we were even more excited to host our first in-person Tales of the Valiant playtest premiering our new adventure, Sea of Bones. Playtests used the amazing new Valiant PC minis from Eldritch Foundry.
With only one hour to complete the adventure, players raced the deadly rising tides in the vast Void to rescue a fallen temple. Special shout-out to GM Emmanuel Boston and his players for completing the adventure and saving the day in only 44 minutes! They are our reigning champions . . . until they defend their crown next year! Congrats on winning some awesome dice for this feat!
We could not have done this without the support of our Community GMs. They went above and beyond to bring our adventures, characters, and products to life at the table. Our GMs are the true heroes of this story.
We've sent official feedback forms and can't wait to see what our GMs have to say. Our goal for next year is to be bigger and better than ever before!
Panels & Live Shows
Since Campaign Builder: Cities and Towns is our best selling title, it seemed only right to kick off our Gen Con panel series with Building Better Cities and Towns. We followed up with a deep dive panel on The Making of Project Black Flag and our fan favorite, Kickstarter 101. Your questions and conversation on these topics always inspire us, and thanks to positive feedback, we'll take our Kickstarter panel to the next level next year with Kickstarter 201!
And of course, no Gen Con is complete without an exciting live show! Our very own Celeste Conowitch GMed a group of incredible TTRPG talent through the Dib's War Machine adventure this year for the Tales of the Valiant Live Show. The love for ToV was palpable in the room! We were so pleased to have a chance to show ToV in action. It was a highlight of the convention for us.
Thanks again to everyone who volunteered, participated, and rolled dice with us. We could not have done it without you!
Next up for Kobold Press on the convention loop is Dragon Con (in two weeks!) and Pax Unplugged in December. Mark your calendars—we can't wait to see you there!
Check Out the Pics!