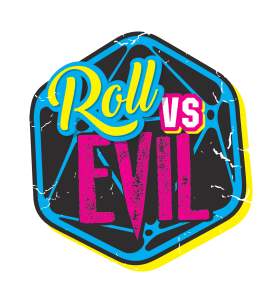 Our friends Chris and Rita Birch of Modiphius started a not-for-profit, Roll vs Evil, to raise funds for various projects to help embattled Ukraine. Funds go to groups like Ukraine Evacuation and Resettlement and to volunteer groups who are helping with medical and aid supplies to those on the frontlines.
When we were asked to participate our immediate response was, "Of course!"
What Can You Do?
This weekend, play a game—any game! Try dropping a few dollars to re-roll a die or draw another card! If you're playing D&D, pay a dollar to get advantage. It's up to you, just make sure to keep it fun. After the game, take those raised funds and donate to Roll vs Evil! It's as simple as that.
Or if you don't have a game planned this weekend, come and join us on Twitch this Sunday at 9 a.m. (PDT) for the Thrones and Bones actual play and again at 8 p.m. (PDT) for The Rotting Heart. We'll be raising funds throughout the entire streams.
Not only that, but we'll be matching the total raised during the streams up to $1,000 USD.
Roll vs Evil with us this weekend!