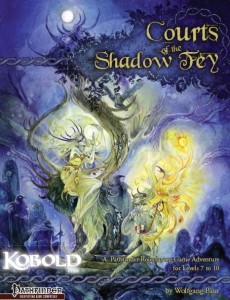 Courts of the Shadow Fey, the fan-favorite planar adventure from Wolfgang Baur, is now available for the Pathfinder Roleplaying Game!  Take your players from Midgard's Free City of Zobeck to the Plane of Shadows to face the Queen of Night and Magic herself, in this  inventive take on courtly combat and sandbox roleplaying.
Ben McFarland (Streets of Zobeck) has joined Wolfgang to create an expanded 130-page edition that's updated and revised based on play. 
Courts of the Shadow Fey for Pathfinder includes:
A detailed 60+ location map of the Courts with 100+ NPCs
A family tree of the shadow fey royals, plus juicy details of their rivalries and relationships
Status rules to track character prestige, and quick-play dueling rules
More than 40 combat and roleplaying encounters
New Pathfinder monsters galore
Demon lovers and dangerous liaisons for those who seek them
Get Courts of the Shadow Fey at the Kobold Store, Amazon, Paizo or DriveThru RPG. Then download the free PDF poster map of the Courts to enter the world of shadows and play the Pathfinder RPG on a whole new level!