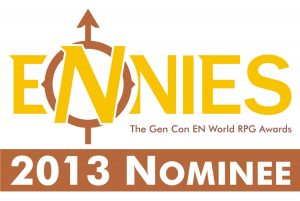 That's right! It's time to vote for the 2013 ENnie Awards, and we want to celebrate a few nominations of our own here on the Kobold Press blog. If you haven't already done so, please share some small but fierce congratulations to those who worked on the following products, which we've organized by ENnies category so that you can vote on them when you head over to the ENnies voting page.
Best Writing
Best RPG Related Product
Best Setting
Best Supplement
Fans' Favorite Publisher
Kobold Press
Congratulations again, nominees! Now, go use that Kobold voting power you have to cast your votes over on the ENnies voting page. Let's show the public just how small AND fierce we are!