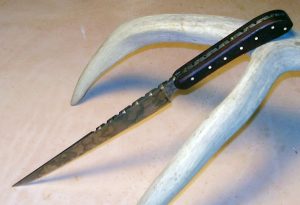 Like Todd Gdula's Real Steel series? Are you a patron of our project Streets of Zobeck for Pathfinder Roleplaying Game? Well, then you'll love this:
We'll award this very shiv from Real Steel, newly forged by Todd Gdula, to one lucky patron. How can you win? After selecting all six adventures for the upcoming Streets of Zobeck anthology, patrons will vote for their favorite pitch and that author takes home the blade! If either Richard Pett or Ben McFarland are chosen, the shiv will instead go to a random senior patron.
It's your chance to win a souvenir capable of more than just a paper cut, but only  project patrons are eligible to win.
See you on the Streets of Zobeck!