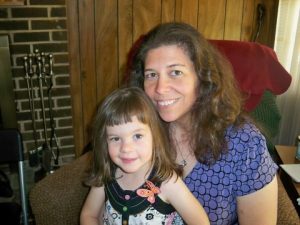 Thanks to all of you who submitted stories for the  "My First Gen Con" Essay Contest. We've hugely enjoyed reading them, and hope you will come by booth #2439 and say hello.
Gen Con Indy 2010 will be runner-up Janet Brock's first Gen Con! When Janet comes to the Kobold Quarterly booth, she will receive $50 in credit and a spin of the Wheel of Freebies.
What in the Nine Layers of Hell is Gen Con?
When I met my husband, he'd removed his Forgotten Realms map from his wall in fear of my reaction.  When he finally put it back up, I had no dang clue what it or D&D was.  Sure, I'm a geek.  I'm the riding horses and singing-in-the-choir kind of geek.  I'd never met anyone who rolled 20-sided dice or could quote one of my most loathed movies, The Lord of the Rings.
But I let him show me what it was all about.  Over the years, a very eclectic array of people have paraded through my house as my husband, the DM, leads us through different adventure paths.  I finally got the hang of the dice-rolling thing, and I developed enough of an appreciation for the once-hated movie and made my first character a halfling.  But each year when Hubby suggests I go to Gen-Con with him, I cringe.  He didn't take no for an answer this time.
I'll admit I've learned to love gaming but in the privacy of my own home, not at the Geek-Fest of all Geek-Fests!  I don't drink Mountain Dew, game 24/7, or want to be locked up by Klingons.  Will I be gawked at for my lack of knowledge of the rules or because I'm a girl?  Will I just stare at the folks living the LARP moment or leave wanting to join them?  Will I come out a better gamer and maybe a better person who lets her imagination flow?  Can a 40-something working wife and mother of two actually have fun here?  Will this be a crit hit or a crit fumble?  I don't know yet, but I'm hoping for a high roll on this Fort save.  Or is it a Will save?