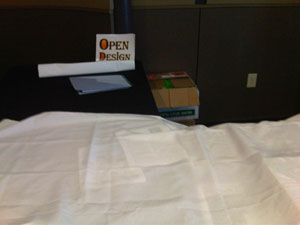 The kobolds have stormed PaizoCon 2011! First, they had to set up, of course. (Check out the initial photo—proof that they were there on Thursday.) Then they scurried off to enjoy some provisions with freelancers and industry folk on Thursday night.
Now that the convention has officially begun, we have a whole bunch of fun coming up. You can read more about what the Open Design kobolds are doing after the jump.
In case you missed it, you can see what Open Design planned for the convention by reading "Kobolds Are Coming to PaizoCon" (posted earlier this week), and we'll add links to various event coverage articles here as we get them up and running.
Thursday (June 9, 2011)
Kobolds Hit Rock Bottom: Freelancers Meet at PaizoCon 2011
Friday (June 10, 2011)
Building a Shared World: Midgard
The Madman at the Bridge: An Adventure at PaizoCon
Booth Report Day One: Hoist the Banner!
Words of Wisdom for Designers
Saturday (June 11, 2011)
A Kobold Tells All at the Secrets of Small Publishing Panel
How Do You Get Published in Kobold Quarterly?
Tips from the Kobolds: Improvisation & Game Mastering
The Kobolds Go Adventuring: Saturday Gaming at PaizoCon
Sunday (June 12, 2011)
Tips from the Designing Better Feats and Traits Seminar
Open Design's Coolest Thing at the Show
Booth Report Day Three: Happy Memories for the Kobolds
Open Design's PaizoCon 2011 Gallery