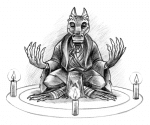 A huge round of applause for Miranda! She's done an amazing job of running the Kobold Blogmines for years. While I'm a wee bit sad to see her go, I'm greatly excited to see what great things she does next. When you slay some dragons, Miranda, come back and tell us all about them!
It's Deja Vu All Over Again
As introduced, I'm Scott Gable, and I'll be your new guide into all things Kobold. Those of you with long memories may remember that, once upon a time, I sat in this same position. I'm back, and we've got great things in store for you. We'll be continuing current columns, we'll be starting new ones, and we'll be creating and celebrating the games we all love. And we're also looking for more content—FROM YOU!  Check out our submissions guidelines and send us your best.
And remember, we're kobolds. So just go push that button over there while I wait here behind cover.
EDIT: There's a new email in town, and it's fully operational: scott AT koboldpress DOT com