Sean K. Reynolds is the developer on Paizo's PATHFINDER roleplaying game, but he didn't start his career there. It took him a while to land at Paizo Publishing.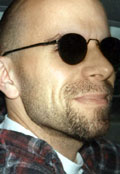 In 1995, Sean left his job at a video game company to become the online content coordinator for TSR. When Wizards of the Coast bought out TSR a couple years later, Reynolds moved out west to the WotC offices, and within a few short months, he was designing for AD&D.
That's three years from webmaster to designer on projects close to the core of WotC's line.
Leaving WotC, Reynolds got back into computer games for a while and into CCGs at Upper Deck. When Reynolds contacted Erik Mona at Paizo about some freelance work, he didn't know there was a job opening.
"Sean is equally at home with hardcore rules number crunching and polishing up flavor text, fake country histories, or NPC backgrounds," said Erik Mona, publisher at Paizo. "He's sort of a utility infielder in the RPG business, capable of wearing many different hats (helms) at once and producing quality work in a number of different arenas. Though I suspect he would be loath to admit it, his long experience in the RPG field (and particularly his time at both TSR and Wizards of the Coast) makes him one of Paizo's elder statesmen, and he's always good for a story about the 'bad old days.'"
A self-described "big outspoken goof" who doesn't like to talk on the phone, Reynolds is a longtime World of Warcraft fanatic and a borderline obsessive painter of miniatures. His life outside of Paizo is a constant balance of hobbies, freelance projects, and… other curiosities.
"I think he lives with 17 cats, several goldfish, and a two-headed llama," said Mona. "Sean is an animal lover to the point where he doesn't eat them. He used to be a germophobe who refused to shake anyone's hand, but I hear he's now open to flesh-to-flesh contact with humans instead of just his coterie of strange animals. Also, I know what the K stands for in his name, but I am sworn to secrecy, so you won't get it out of me."
Below, Reynolds and I talk about 3E, Pathfinder, and lobsteak.
That's right: lobsteak.
Welcome to the Paizo editorial pit. [More…]
Jones: What exactly does a developer do all day?
Reynolds: I'm pretty much the wrangler of all text for our PATHFINDER Chronicles, PATHFINDER Companion, and PATHFINDER Modules lines. Start to finish, I'm the guy who assigns pieces of books to authors, reminds them of their deadlines, cleans up manuscripts, writes art orders and map orders, and handles the workflow of things to the editor.
For example, today I'm making a preliminary list of authors for our upcoming Guide to the River Kingdoms, looking at the editorial interns' pass on the module Crypt of the Everflame, adding in some updates from the author of Qadira, Gateway to the East, and doing a copyfit pass in layout for the module Beyond the Vault of Souls.
The most brain-intensive part of my job is manuscript cleanup. Some of this is simple stuff like applying Paizo text styles to the manuscript, but it's mostly checking continuity; noting what parts of a turnover would be good to illustrate; doing rules development on new spells, items, and feats; and deciding if it's more time-effective to bounce something back to the designer to fix or to do it myself. The amount of work on a particular project really varies.
Sometimes a manuscript only needs a light pass for a few style issues, and I'm done with a 32-page adventure in a day. Sometimes the designer is really late, and it's starting to affect the release date and we have to accept an unfinished manuscript, which means I'm the one finishing it. Sometimes the designer turns over a rough manuscript or one that's way too long, and I have to spend a lot of time shining it up and trimming the fat.
Basically, it's my job to take a turnover and improve it as much as I can, whether that's turning an A into an A+, a B into an A, or a C into a B… although, even with C-grade turnovers, the hope is to get them up to an A. Obviously, I prefer working with designers who make the effort to turn over an A or B at the start. Any amount of time I have to spend spellchecking someone else's manuscript (and similar basic things) is less time I have for the awesome-ification of the book.
Jones: How'd you find your way to Paizo's editorial pit?
Reynolds: I left Wizards of the Coast a few years ago and stopped participating full-time in the tabletop RPG industry, working on computer games, console games, and CCGs. When I was let go from Upper Deck last year, I told Erik Mona that I was looking for more freelance work. Erik told me that Mike McArtor was planning to leave Paizo, and he'd be happy for me to take over developer duties. Two months later, I was at Paizo, once again working full-time in the tabletop industry, with some people I knew from Wizards of the Coast and TSR and some I'd been working with off and on for years as a freelancer.
I'm not really seeking glory and glamor. Sure, I'm a big outspoken goof, but I'm actually glad that I'm not a big name like Monte Cook or Ed Greenwood. It lets me stay low-key. Being a full-time designer isn't easy, and it leads to burnout if you're not careful.
I also have a problem in that I have about 10 books I'd like to self-publish, but I get part of the way into one, and I get antsy and want to start working on the next one. Being a developer means I can get my hands dirty with a lot of books, yet don't have to deal with the stress of churning out a huge number of new words every month.
It means I'm associated with a lot of cool products without having to do all the grunt work (just some of it). I guess it's like actors who say, "right now I'm an actor, but I really want to direct." I want to tell stories, but I don't have infinite time to tell them all, so I fiddle with other peoples' work and only use some of my free time for personal design.
I like writing; I like developing. I didn't expect to be doing either one for a living, so I'm lucky either way.
Jones: Other than PATHFINDER RPG, what are some projects you've got going?
Reynolds: I have dozens of projects. It's just a matter of sitting down and finishing one in particular: painting minis (usually for an upcoming short campaign), playing World of Warcraft (I quit last year, started up again because a friend asked me to come back, now I'm weaning myself off of it again), sculpting terrain, and self-publishing various projects, including collaborative things with old and new friends. There are also things I mean to accomplish this year once my freelance schedule clears up, like chase some cute Seattle girls, learn to play guitar, and do some large-scale painting (like on a canvas rather than a mini). The trick is leveraging my inspiration to overcome my laziness.
Jones: Working as a developer on Pathfinder and painting minis—are these two things at all similar? Do they require similar skill sets?
Reynolds: That's a very insightful question! Yes, I think so.
Many minis have a lot of weird corners and angles that are hard to paint (like between a fighter's shield and his side). When you're painting that kind of mini, you have three options.
One, you spend a lot of time with a precision brush and carefully detail that spot so that it looks perfect.
Two, you realize that nobody's going to see that tiny part of the mini during gameplay because at arm's length or on the tabletop that precise angle is invisible, so you just paint it a single dark color (so it looks like a shadow) and not worry about.
Three, you realize the mini would be better if you did some surgery and put something else in that area so there was no more awkward angle. It's more work than the second option but often the result is more satisfactory.
In RPG development, there are times where you get "awkward angles" such as a strange new rule, a weird plot twist, or a continuity problem. Sometimes, it's best to work out all the details and come up with a cool, detailed explanation for that problem (mini option #1). Sometimes you gotta accept that the problem is something that's not going to come up in 99% of games and it's better to just cut what's there and smooth out the text around it (mini option #2).
And then there are times where what's there needs to be cut out and replaced with something cooler (mini option #3), such as replacing a broken feat with one introducing a new mechanic, replacing a new monster that uses a complicated mechanic with an existing monster that gets the same job done in 1/3 the space, cutting a page of detailed rules about haggling with a sidebar about when to use haggling as a good plot device, or adding consequences to an abrupt end of an adventure.
It's really about trying to be smart with the time and resources you have. I could paint 100 skeleton minis and make each of them look really good, or I could accept "they're just skeletons, and I have no PCs painted yet." I could spend an extra week tuning a stand-alone adventure, or I could spend that extra week on a sourcebook that people will use and reference for years.
Ok, we lied about the lobsteak. Come back tomorrow for the second part of our SKR interview — we've saved the best for last!