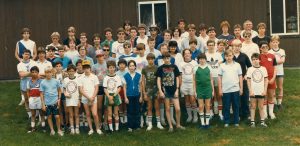 How many people know that Shippensburg University, here in my home state of Pennsylvania, held week-long D&D camps every summer during the mid-eighties?
That's right, a summer camp for D&D!  Instead of basket weaving and archery, you played Dungeons & Dragons … all week. It was a lot of fun (I attended the last two years, and my best friend went the last three years). You stayed in the dorms, ate breakfast and lunch in the college cafeteria, and then spent the rest of your time playing D&D, attending seminars about D&D, and more! TSR even occasionally sent someone from the company as a guest of honor — I remember Frank Mentzer being there, which was great!
Oh, and how about that picture?!?! Is that a group of mid-eighties D&D players, or what? And, yes … I'm in that picture :)
There's lots more about the infamous Shippensburg University D&D Camp out there — here are a few links to get you started!
https://gamingbrouhaha.wordpress.com/2009/05/19/one-time-at-dd-camp/
https://gamingbrouhaha.wordpress.com/2009/10/31/another-shippensburg-dd-camp-story/
http://boingboing.net/2009/09/27/dd-camp-circa-1982.html
https://www.flickr.com/photos/lamemage/3961673573/
https://2warpstoneptune.wordpress.com/2013/06/18/dungeons-dragons-camp-1981-1985/
Do you know of any D&D or roleplaying game camps out there? If so, please let us know in the Comments field!